Parts, Services and Upgrades
Quality Parts, Services and Upgrades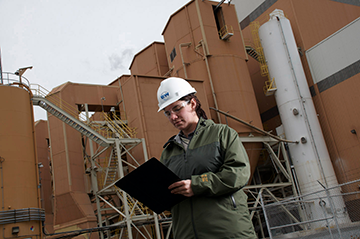 How do you maintain your competitive edge in today's market? Are you operating at peak efficiency and maximizing the returns on your assets? Are you partnering with a proven service provider with whom you can rely on to provide ongoing maintenance support, quality replacement parts and new technologies when needed?
These are just some of the reasons to choose Babcock & Wilcox as your one-stop aftermarket supplier for your entire plant.
24/7 Phone Support
From 8:00 AM to 5:00 PM ET (12:00 to 21:00 UTC), please call:
Phone: +1-330 860-1460 or toll free within North America (1-800-354-4400)
After hours: 1-800-BABCOCK (+1-800-222-2625)
Alternatively, for direct access to specific OEM aftermarket parts and services by product line:
Babcock & Wilcox® Boiler and Environmental Parts & Service
Phone: +1-330-860-1460 or toll-free within North America 1-800-354-4400
After-Hours Emergencies Phone: 1-800-BABCOCK
Diamond Power® Boiler Cleaning Parts & Service
Phone: +1-740-687-6500 or toll-free within North America 1-800-848-5086
After-Hours Emergencies Phone: +1-800-876-9762
Allen-Sherman-Hoff® Ash Handling Parts and Service
Phone: +1-740-687-6500 or toll-free within North America 1-800-848-5086
After-Hours Emergencies Phone: +1-800-876-9762

Replacement Parts/Performance Upgrades
B&W provides quality parts, components and system upgrades for a wide range of plant equipment.
---
Steam Generation Systems
Boiler Pressure Parts and Non-Pressure Parts
B&W provides modifications, improvements and in-kind replacements of pressure parts and non-pressure parts including:
Boiler furnace walls and openings
Superheaters and reheaters
Steam drums, headers and attemperators
Air system rebuilds
Cyclone furnace replacement
Cooling system upgrades and parts
Environmental system upgrades and parts
Learn More
Pulverizers/Mills
B&W continually develop new technologies, upgrades, replacement parts, and inventory management programs to improve reliability and performance, and to reduce operating and maintenance costs of our B&W Roll Wheel and E/EL pulverizers, as well as CE-type mills.
All parts, materials and upgrades are engineered and manufactured to the original specifications to ensure proper fit and performance. We have extensive experience in grinding all types and blends of coals. In addition, we provide other user benefits such as technical support services, our Assured Stock Program® inventory management system, and other customer-focused programs to help you get the most out of your grinding equipment.
Learn More
Burners/Igniters
Combustion system firing equipment
B&W provides low NOx coal, oil, natural gas and industrial process gas firing equipment. Our complete overfire air systems are designed for your operating conditions, fuels and furnace envelope. With an integrated system design approach, benefits include optimized, low maintenance operational and environmental performance.
Learn More
Efficiency Improvements
Lower fuel and operating costs. Lower parasitic power consumption. Reduced air emissions. These are just some of the results of improving overall plant efficiency.

Strategies to improve plant efficiency and heat rate should begin with a thorough analysis and review of current plant conditions. B&W provides plant owners and operators with a wide range of services and technologies to do this.
Learn More
Heat Recovery Steam Generators
Building on more than 150 years of experience in steam generation, B&W combines our proven industry experience and expertise in thermal technology to provide advanced Heat Recovery Steam Generator (HRSG) technologies. We provide reliable systems, upgrades and replacement components such as HARPs, headers, finned tubing and other pressure parts suitable for a wide range of combustion turbine applications.
Learn More
Fuel Conversions
The cost of natural gas makes fuel switching an attractive option for owners and operators
B&W's natural gas conversion experience is proven: many power boiler owners and operators have successfully converted their existing units to 100 percent natural gas firing systems, significantly reducing annual fuel and plant operating costs.
Learn More
Capacity Increases
B&W considers all the key issues when optimizing a unit, including understanding how boilers age, identifying the critical components, and determining the general types of changes and enhancements possible. These elements are then combined with operating experience and equipment condition assessment to develop an integrated strategic plan for each boiler and each component in the boiler.
Boiler Load Cycling
Most of these units were originally designed for base loaded operation and not designed to accommodate frequent on/off cycles. The stresses placed on the weld joints, headers, drums and attachments between expanding and contracting parts, can cause failures after a finite number of cycles.
Learn More
Auxiliary Plant Equipment
Customer Programs
Assured Stock Program®
Assured Stock Program (ASP) inventory management allows you to tailor a plan which can incorporate a variety of components and B&W services. The program is adaptable, easily implemented and can incorporate additional B&W services such as component rebuilds and upgrades.
ASP applications can be tailored to your needs to include a variety of E/EL and B&W Roll Wheel® pulverizer components. The program reduces the overall cost of obtaining parts and components, while maintaining and improving power generation reliability and availability.
Strategic Alliances
Strategic alliances can provide both short- and long-term benefits which result in operational and financial advantages. Partnering with Babcock & Wilcox for larger capital projects means you'll receive the added benefit of working with a supplier who has the breadth of technical expertise and proven capabilities to provide solutions for virtually all boiler, auxiliary and environmental systems at a power plant.
Resident Service Engineers
Our resident service engineers work regularly with your operation, maintenance and engineering personnel.
As your single point-of-contact, he or she is highly knowledgeable about your plant and its equipment, offering advisory services, replacement parts and upgrade support.