Babcock & Wilcox Construction Co., LLC (BWCC)
Babcock & Wilcox Construction Co., LLC (BWCC) is a single-source turnkey supplier of a full range of field construction, construction management and maintenance services.

Our extensive experience with a wide range of projects — from large, complex projects to small unanticipated quick turnaround repair needs — gives us the depth of knowledge and responsiveness necessary to safely deliver dependable services of any size at any facility.
As a subsidiary of Babcock & Wilcox, we take advantage of the proven benefits of designing for constructability and modularization whenever possible with a shared goal focused on safety, efficiency and success.
Safety is our TOP priority
Regional presence provides for agility and efficiency
Extensive experience, from large, complex projects to quick turnaround repairs and outage services
Fully integrated material design and supply into construction plans
Highly experienced and dedicated construction engineers
Experienced supervision and on-site project support personnel
Ability to assess and evaluate how to best staff and manage labor needs
Proactively manage risks and seize opportunities that reduce costs and schedule
Outage Support Services
BWCC provides outage services, installation, refurbishment, mechanical repair and maintenance services for a variety of industries, equipment and plant installations, regardless of the original manufacturer.
Equipment
Boilers and other steam generation equipment
Pressure parts
Sootblowers
Burners
Stokers
Cyclone furnaces
Pulverizers/mills
Piping
Insulation/lagging
Ash and material handling equipment
Selective catalytic (SCR) and noncatalytic reduction (SNCR) systems
Wet or dry scrubbers
Dry sorbent injection systems
Electrostatic precipitators (ESP), dry or wet
Fabric filters/baghouses
Heat recovery steam generators (HRSG)
Ductwork, casing and hoppers
Steel/walkways
Air heaters (regenerative and tubular)
Evaporators
Fans and pumps
Conveyors
Feedwater heaters
Condensers
Rotating equipment
And much more
Industries
Power utility
Oil & gas
Oil sands
Chemical and petrochemical
Pulp & paper
Biomass
Waste-to-energy
General manufacturing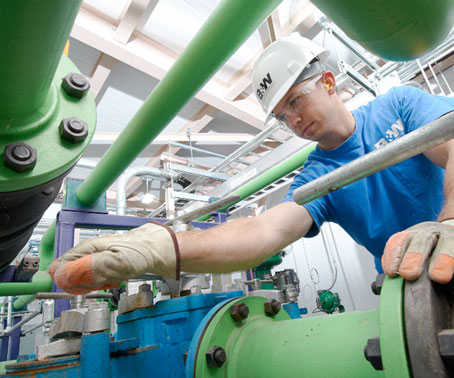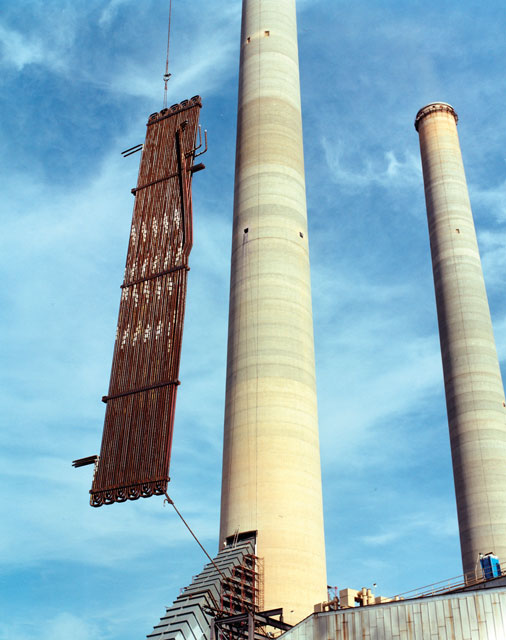 Turnaround Services for the Oil & Gas Industry
B&W is a leading supplier of turnaround and capital project services for customers in a wide variety of industries, including oil and gas refining, petrochemical, electric utility, pulp and paper, and other industrial process industries. Through experience, unique execution strategies, complex methodologies and specialty services, we have the depth of knowledge necessary to safely deliver a successful project.
We have a reputation for meeting commitments — even with schedule, access or manpower constraints — to get your operation back online sooner.
Learn More About Turnaround Services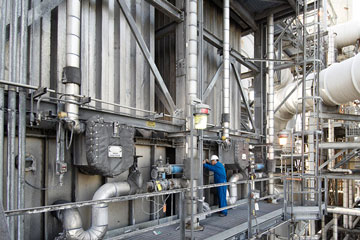 Regional Construction Offices to Serve Our Customers
We operate regional construction offices strategically located across the U.S. and Canada to more quickly respond to fast turnaround requests, as well as to more efficiently and effectively manage projects. In fact, we've recently added locations for even better coverage.
We work closely with B&W Field Engineers who, from some of these same offices, are in front of customers every day. This direct interaction provides the important communications link to be nimble and reactive enough at the local level while maintaining the expertise and engineering support of a larger organization.
Canada contact:
Western Canada: 780-489-0404
Eastern Canada: 506-633-2880 and 519-620-4800
United States contact:
Western US: 707-265-1028
Eastern US: 816-204-2626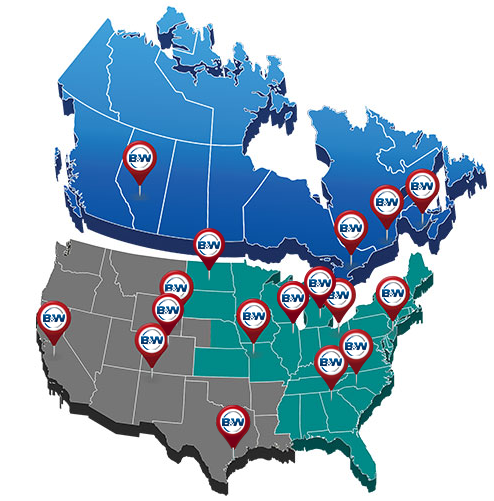 Safety First
At BWCC, safety is our number one priority and one of our core values. Our Target Zero program is a comprehensive, company-wide program that every employee, craft and supervision alike, must adopt. Our goal is to make sure that every project finishes safely with no lost time accidents or injuries — to finish each and every day incident- and injury-free.
Safety highlights
Safety is a management priority and a core value for all employees.
Safety training goes deep into the organization.
An expanded new-hire orientation includes safety training for all direct-hire labor (OSHA 10).
Construction superintendents are involved in on-site safety compliance and hazard identification, including:

OSHA 30 qualification
Daily site walk-through observations
Daily Job Safety Analyses (JSAs)
Weekly safety meetings
Incident and near-miss investigations

Safety comprises a large part of the lift reviews for all crane and rigging operations.
A new mobile training trailer is used for on-site skills upgrades.
BWCC conducts site-specific safety programs for all projects.
All BWCC employees are empowered and have the authority to modify and/or stop any unsafe behavior.
Customer benefits
A safe project is executed more efficiently saving time and money.
You can have confidence that every project will be performed in a safe manner.
Positive public relations result from a safely executed project.
A safe working environment attracts and retains labor.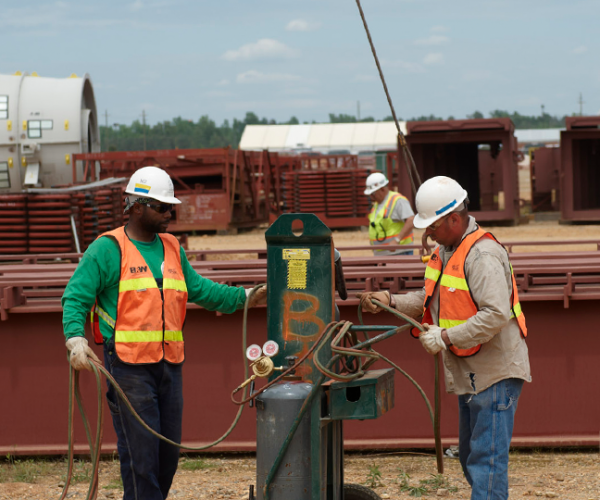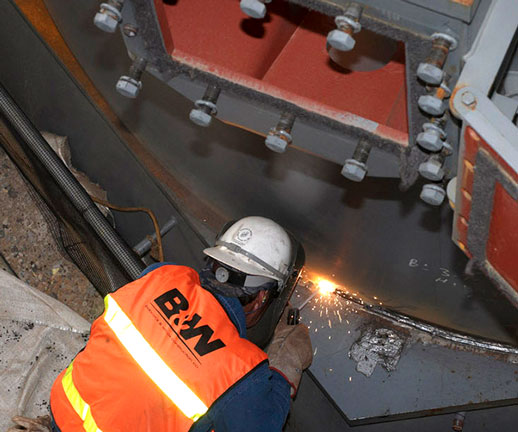 Construction Technology
Constructability reviews and constructability planning are very important aspects to any construction project. Our Construction Technology Group is involved in the proposal process and generates the required rigging layout drawings.
The Construction Industry Institute (CII) defines constructability as a dedicated program that makes optimum use of construction knowledge and experience in the planning, design, procurement, and field operations to achieve overall project objectives. CII recognizes that maximum benefits occur when those with construction knowledge and experience are involved at the very beginning of a project. BWCC proudly endorses and practices the CII definition and recognizes the benefits of a formal constructability program.
Our Construction Technology Group provides the required technical support to both the home office and field operations of BWCC. The mission for the group is to provide technical oversight in the preparation of proposal and execution of contracts, with the following goals:
reducing costs of field operations,
minimizing project time span,
constructing a quality product, and
providing a safe working environment through the proper, effective and innovative use of methods, techniques, tooling and equipment.
An approach is taken whereby early in the life of a project, Construction Technology personnel work in unison with construction management personnel, estimating personnel, and engineering to influence the material supply. Based on specific project limitations and considerations, an effort is made to define the size, configuration, weight, number, and sequence of all shipping units. Consistent with the recommendations for material supply and specific project limitations and considerations, a construction plan focusing on applicable methods, techniques, tooling, and equipment is developed.
Upon completion of the project, a "lessons learned" session is conducted. In that session, the effectiveness of the material supply regarding overall constructability, and the effectiveness of the associated methods, techniques, tooling and equipment are evaluated. Based on the outcome of that evaluation, standard practices are developed for future applications.
Technical services provided by BWCC's Construction Technology Group include:
Construction Planning
Erection methods
Work activity sequencing
Accessibility Product
Configuration & Constructability
Interface with OEM engineering
Input into product configuration
Product knowledge and experience
Shipping configurations
Field weld accessibility
Modularization studies
Erection tolerances
"Lessons Learned" sessions
Interface between field operations and product design team
Construction Engineering
Construction work plans
Construction facilities
Resolution of field engineering problems
Project Rigging/Heavy Lift Engineering & Design
Heavy crane specification, placement and utilization
Specialized rigging systems
Engineered heavy lifts
Civil/Structural Engineering
Evaluation of effectiveness of imposed erection loading
Temporary support systems
Reinforcement of existing building steel
Evaluation of imposed erection loading on underground infrastructure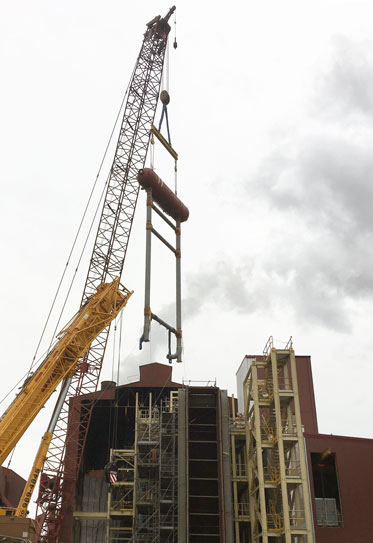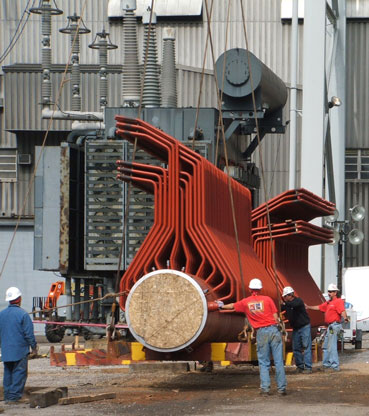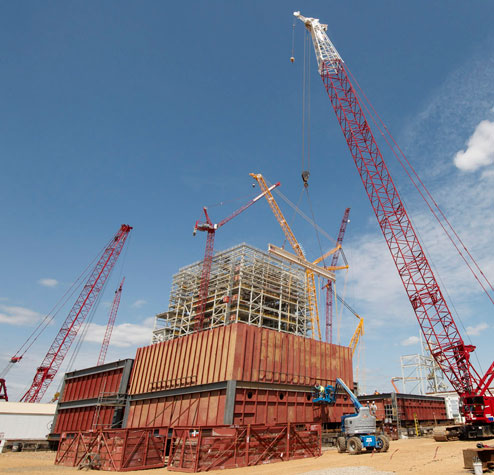 Qualified and Experienced Site Supervision
Our supervision and site project support personnel actively share experiences and lessons learned across our full spectrum of products and projects. This collective knowledge results in a continuously improving learning environment.
Our site management teams are staffed by both hourly and salary personnel who are highly experienced and have a long tenure of successful performance on a variety of construction projects. Also, regular formal training and informal knowledge transfer among supervisory teams create an environment of continuous improvement and learning.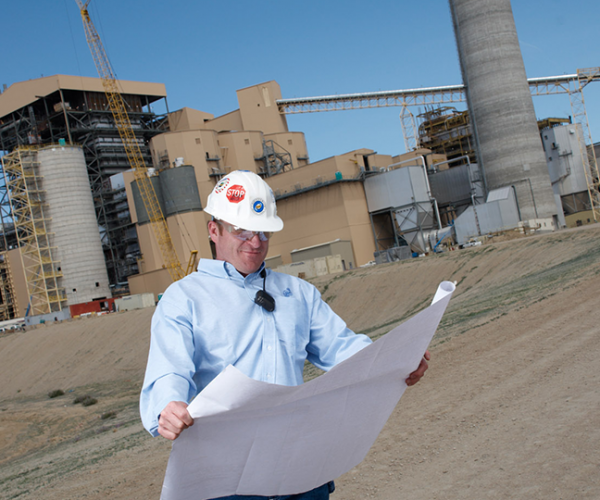 Labor Management
The success, cost, quality and schedule of a project will depend on the availability of qualified labor to perform work.
BWCC is a union contractor and is signator to agreements with national trade organizations. Such affiliation provides ready access to a trained, pre-screened and talented pool of field labor.
Our long and successful history with local, regional and national labor gives BWCC the ability to assess and evaluate how to best staff and manage the labor needs of your project. Our reputation provides credibility in the industry.
We recognize the complexities and challenges of supplying a work force which brings with it the necessary knowledge, skills and abilities to productively perform in the demanding environment of utility and industrial projects. BWCC works with local building trades and international unions on programs such as the Boilermakers' M.O.S.T. (Mobilization Optimization Stabilization and Training Fund) programs. BWCC has taken a proactive relationship with the metal trade crafts to assist in forecasting skill requirements and minimizing labor shortages.
Project agreements, negotiated by BWCC with the craft unions, help create an effective and productive labor relationship. Prior to crafting a project labor agreement, BWCC usually discusses the unique jobsite and labor requirements with the customer.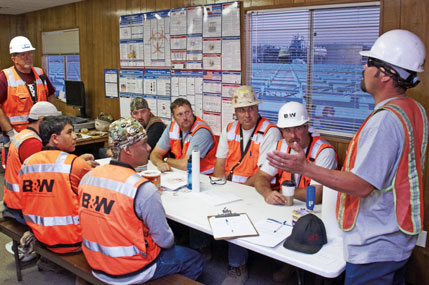 Project Planning & Controls
Our Project Controls group brings decades of experience in managing projects together by using a holistic approach to project controls, best practices, and client-specific requirements with a bottom-up approach. Project planning begins early in the project lifecycle, combining schedule, cost and earned value to bring key performance indicators to the forefront for our project management staff.
With a combination of in-house and industry-standard tools, we continuously monitor project health, mitigating project risk and seizing opportunities to reduce costs and schedule.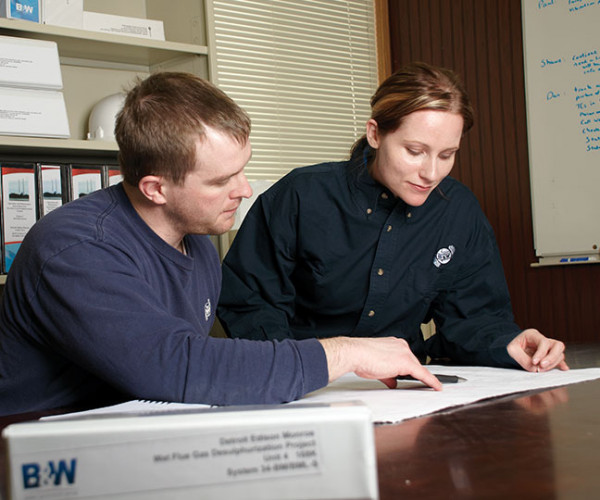 Startup & Commissioning
Startup and commissioning activities of a steam generating or environmental equipment control system will directly influence the ultimate success of an entire project. Proper strategic planning is key to avoiding delays, cost overruns and potential safety hazards as equipment and processes are started up.
B&W has a dedicated staff and the resources available to administer its proven startup and commissioning plan for your power plant project. Our dedicated startup and commissioning services are a natural extension that bridge the gap between equipment design, construction and full plant operation