Flue Gas Cleaning
Flue gas cleaning systems reduce atmospheric emissions of substances that are hazardous to the environment and health, including heavy metals, dioxins and substances that cause acidification and eutrophication.
We offer both subsystems and fully assembled installations for cleaning flue gases generated by the incineration of hazardous municipal and industrial waste and the combustion of biofuels. Whether designed for new or existing equipment, our wet and dry flue gas cleaning systems are customized to meet customers' specific requirements and comply with current and anticipated regulatory directives.
Flue gas cleaning systems are often integrated with flue gas condensation for energy recovery in multi-stage scrubber systems.
We provide the following, separately or in combination:
Dry and semi-dry flue gas cleaning
Wet flue gas cleaning
Water treatment in conjunction with wet flue gas cleaning
Catalytic NOx reduction using SCR technology
We offer unique and specialized technologies to achieve flue gas cleaning goals:
ADIOX® – dioxin removal using carbon-doped plastics in scrubbers and absorbers
MERCOX™ – oxidation and removal of mercury in wet scrubbers
CUTNOX® – reduction of NOx formation in grate furnace systems using air-water jets
Multi-stage scrubbers – compact, multi-functional units with small footprints
Sulfur recirculation – reduction of high-temperature corrosion by returning sulfur to the furnace
Wet electrostatic precipitators – separation of dust and particulates in a wet scrubber
NextBAT® ̶ from crane to stack
We have helped to develop a concept for turnkey NextBAT® installations that offers exceptionally low emissions and will meet the requirements of the coming waste incineration BREF.
Proven & Preferred
More than 40 incineration lines in operation feature our flue gas cleaning systems
More than 100 incineration lines are installed with our ADIOX dioxin removal technology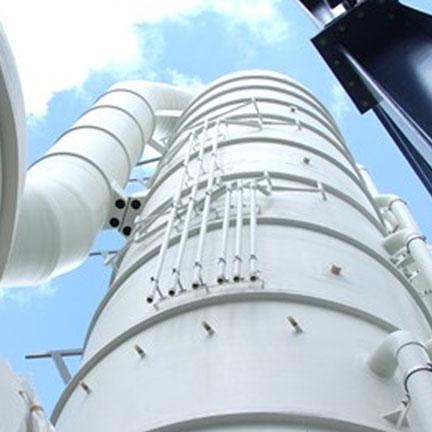 B&W Environmental GMAB™ Solutions
Anders Carlssons gata 14
SE-417 55 Göteborg
Sweden
Tel +46 31 50 19 60
Fax +46 31 22 98 67
The Next Generation of Waste Incineration
Best Available Technologies for EU Waste Incineration BREF Compliance
Babcock & Wilcox has a long tradition of focusing on high efficiency and low emissions. Our renewable and environmental segments, together, have an integrated systems solution for the next generation of waste-to-energy plants. The Waste Incineration BREF sets new and higher standards for waste-to-energy plants.
A waste-to-energy plant's level of efficiency in recovering energy from waste is measured by the R1 formula. High overall energy efficiency ensures maximum substitution of fossil fuels and thereby reduces the impact of greenhouse gases. B&W's NextBAT® solution ensures that plant owners achieve a high R1 rate because of our unique technologies.
The Next Generation of Waste Incineration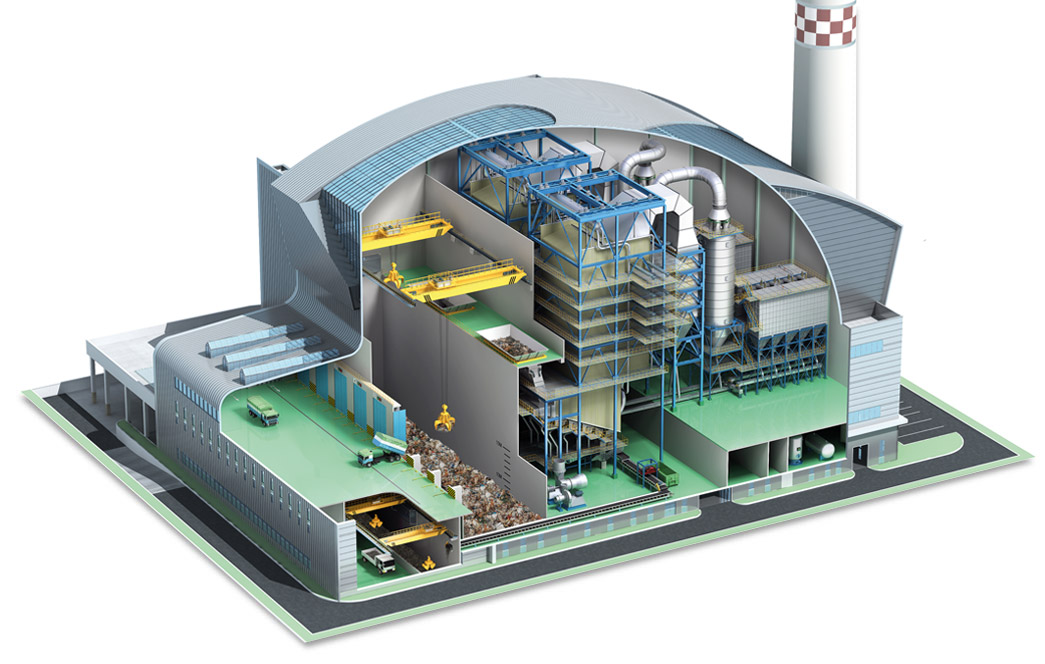 ADIOX Dioxin Removal
Dioxins are highly toxic substances and can be formed when waste is incinerated. There are, therefore, very strict requirements set for their low emissions. B&W Environmental, through our GMAB product line, offers ADIOX® technology, a dioxin removal solution which has been proven in more than 100 installations worldwide.
Typical applications
ADIOX can be applied in various processes, wherever emissions of dioxins need to be reduced. It is suitable for installation in wet scrubber systems or in other types of containers in a gas cleaning system and at thermal treatment plants for:
Municipal solid waste
Hazardous / chemical waste, especially chloride-based waste
Sludge
Biomass
Steel and metal
Installation options
ADIOX is produced and delivered in the form of tower packing and droplet separators, with all the conventional advantages these provide. They can be installed in scrubbers and also in dedicated dioxin removal absorbers where the gas is dry or saturated (semi-wet operation).
As "police filter" and to prevent/reduce the memory effect
Integrated in a multi-functional scrubber for primary dioxin removal
In a dry or semi-wet process, installed separately in an absorber
Combined with SCR technology
The material is installed in various applications including wet scrubbers, semi-wet (moisture saturated) absorbers, dry absorbers and droplet separators.
ADIOX is especially well suited for avoiding the so-called dioxin memory effect or where a multi-functional solution is required with integrated separation of HCl, SO2, HF, Hg and dioxins, in combination with substantial energy recovery through flue gas condensation. ADIOX is available in different sizes and types of tower packing such as knitted mesh droplet separators and lamella demisters. The material is supplied in bulk to end users for installation in existing scrubbers and as components in upgrades or new flue gas treatment plants.
ADIOX technology offers many advantages
Easy installation and long replacement intervals
Very high availability
ADIOX leaves no residual products as the material is incinerable
Dioxins are destroyed in incineration
Long replacement intervals for tower packing material
Competitive operating economy
If existing tower packing and droplet separators are replaced with ADIOX, the memory effect is effectively reduced
Can be cost-effectively integrated into conventional tower packing scrubber systems
Equipment for extra removal requirements such as a final dry or semi-wet absorber is easily added
Analysis package
We offer our customers an inspection program in which the material's dioxin content, surface and mechanical qualities are regularly analyzed (usually once annually). The purpose of this procedure is to ensure the installation is functioning well and that the material enjoys maximum economic use. The test results are presented in a report and following repeated analyses, an absorption history is presented for each stage.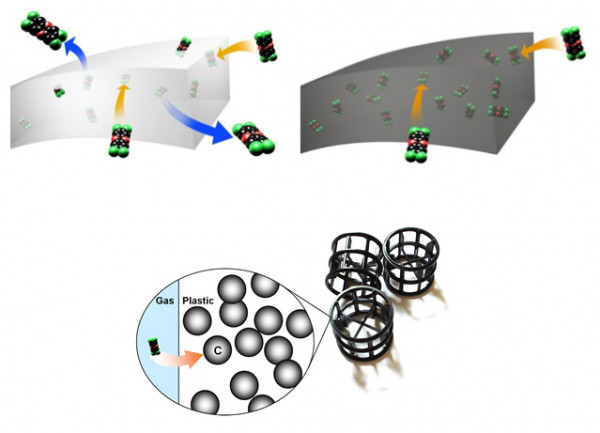 Dioxins in equilibrium between gas and polymer (above left). Dioxins are absorbed in the polymer and bound to the carbon particles (ADIOX, above right)
How it Works
Our patented ADIOX principle is based on the fact that dioxins dissolve (are absorbed) in polymers and are powerfully adsorbed (bound) to carbon particles. By mixing carbon particles in a polymer, a material is obtained that is corrosion resistant, easy to process and which has a high dioxin absorption capacity.
Dioxin molecules in the flue gas are first absorbed by the polymer, then they diffuse to carbon particles where they are bound powerfully to the surface. The polymer acts as a selective membrane that protects the carbon from substances that do not dissolve as well in polymers, such as water.
Dioxin Memory Effect
Dioxin is absorbed efficiently by various polymers such as polypropylene until equilibrium is reached, which means dioxin desorption can also take place. Typically, dioxins are absorbed during operational disruptions or start-ups when concentrations are high, to be released again during normal operations when concentrations are lower. Small temperature variations can also lead to absorption/desorption equilibrium displacements. This phenomenon is called the memory effect, and can lead to problems in staying under dioxin limits. ADIOX is often used to minimize the memory effect.