Pulverizers / Mills
Reliable coal pulverizer performance is essential for sustained full-load operation of today's power plants. An effective pulverizer must be capable of handling a wide variety of coals and accommodating load swings in utility boilers as large as 1,300 MW.
B&W's pulverizers, found at power stations throughout the world.
From our original E/EL ball-and-race type pulverizers for lower capacity applications, to the latest B&W Roll Wheel™ pulverizer capable of grinding up to 230,000 pounds of coal per hour (104,300 kg/hr), we set the standard for high availability, reliability and low maintenance.
Every B&W pulverizer is built with a commitment to quality, durability and operational excellence:
Operates a minimum of 3,000 hours between internal inspections
Maintains fineness and capacity throughout the wear life of the grinding elements
Accepts and grinds a wide variety of coal types
Requires a minimum number of replacement parts
Allows for easy maintenance through a single, large access door
Includes capabilities to manually or automatically change spring loading and/or coal fineness
Utilizes the most advanced wear and erosion protection Today, with more than 1,100 B&W Roll Wheel pulverizers sold worldwide and six different sizes burning a variety of coals, B&W has the proven design and operating experience to meet your specific project requirements. This performance has made the B&W Roll Wheel pulverizer the pulverizer of choice for coal-fired boiler operators and owners.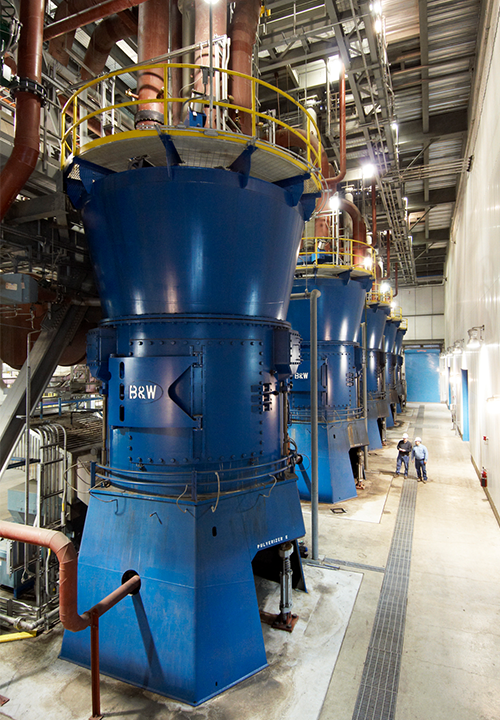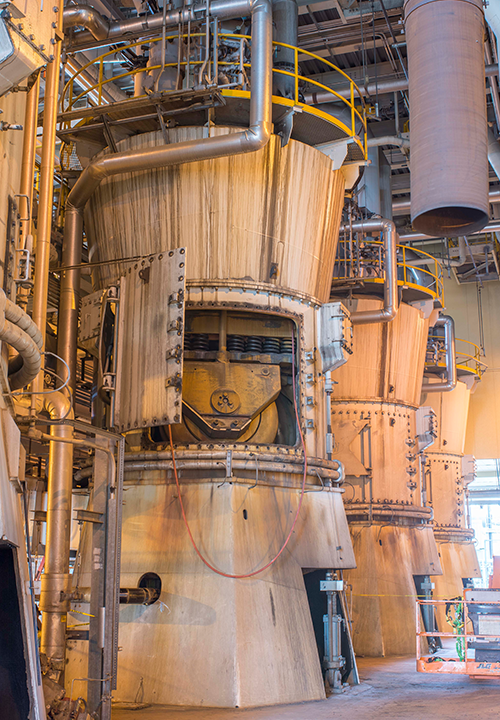 World-Class Wear Materials
In 2015, B&W and Magotteaux formed a strategic alliance to provide world-class wear material products and services to customers around the globe. Through the alliance, we can offer:
Metallurgical expertise and patented technologies for specialty alloys and composite materials, so your equipment has greater performance and longer life
Proven and customized technology and parts for mills of varied OEMs, fuels, wear materials (low chrome, high chrome, ceramic)
Xwin® technology that extends running life of tires and segments, increases time between maintenance cycles, reduces O&M costs, lengthens consistency of grinding profiles and reduces power consumption
Worldwide safety- and quality-certified manufacturing facilities, replacement parts stocking programs, and a network of field service engineers for reliable, responsive service
Learn More About B&W And Magotteaux
Aftermarket Products & Services
In addition, we continually develop new technologies, upgrades, replacement parts, and inventory management programs to improve reliability and performance, and to reduce operating and maintenance costs of our B&W Roll Wheel and E/EL pulverizers, as well as CE-type mills.