Leading Clean Power Production Systems for the Oil Sands Industry
Babcock & Wilcox has served the oil sands industry for many years by providing a wide range of clean power production technologies and aftermarket support services including parts, equipment upgrades and field engineering.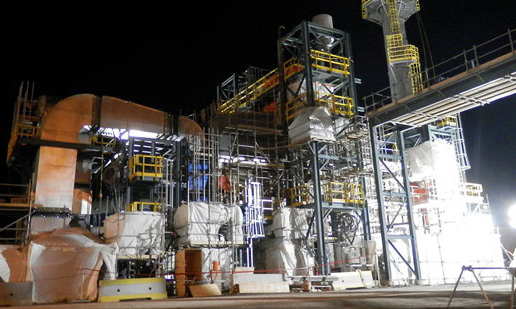 More than 5,000 Industrial Water-tube Boilers Installed
For a variety of applications, including SAGD and enhanced oil recovery installations.
B&W provides a wide range of products and services which meet the unique steam requirements for the oil sands industry. Key features and highlights of our capabilities:
Package and heavy industrial boiler applications for SAGD, oil refining and mining applications
Modular construction for Fort McMurray shipping corridor limitations
Designed for optimized constructability
Multi-circulation technology for sub-ASME feedwater
Complete construction and refinery turnaround services
Water-Tube Package & Industrial Boilers
Oil Sands Industrial Boilers
B&W's industrial water-tube boilers are ideally suited for oil sands and other refinery applications. Features of our design meet the specialized needs of steam-assisted gravity drainage (SAGD) and other in situ processes.
For oil sands applications, saturated or superheated steam is generated with minimal required blowdown, increased efficiency, and improved ability to utilize liquid and gaseous fuels, including produced gas, heavy oil and residuals, as well as turbine exhaust gas and HRSG applications.
B&W's industrial boilers can also accept feedwater quality lower than ABMA/ASME limits (sub-ASME) for drum boilers. To do this, B&W's Multi-Circulation technology is used to control boiler circulation so that low solids water is supplied to the high heat flux zones in the boiler and high solids water is supplied to the low heat flux zones—thereby minimizing internal boiler tube deposition. The multi-circulation feature addresses concerns about the effects of sub-ASME quality feedwater on tube deposition by offering a unique design that maximizes thermal efficiency while minimizing the need to clean boiler tubes.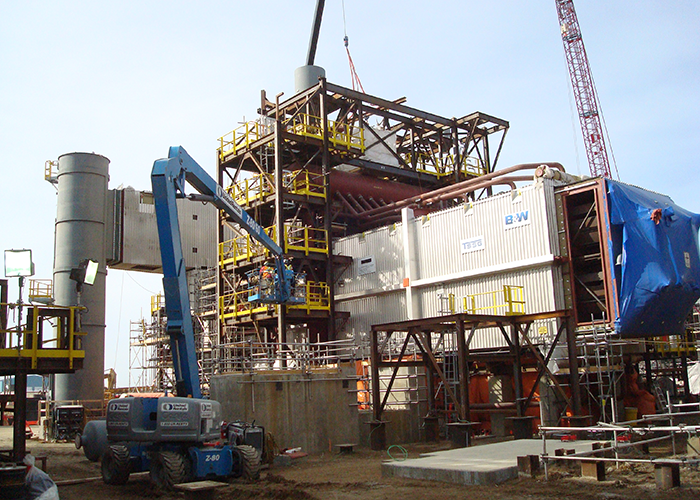 B&W's industrial water-tube boilers are bottom supported, natural circulation designs with modularized construction that maximizes shop assembly and minimizes field erection, thereby providing more project scheduling certainty.
The units are fully drainable, can be designed for either forced or balanced draft operation, and are designed to meet specific steam temperature and pressure requirements within standardized configurations. Superheat can also be added when using the Multi-Circulation option to reduce water loss and improve overall plant efficiency in SAGD or power generation applications.
Units come in pre-engineered frame sizes to accommodate a range of steam conditions and capacity. They are designed to ship in shop-assembled modules within the shipping limitations of the oil sands region for size and weight.
Specifications
Steam capacity: 100,000 to 1,200,000 lb/h (45.4 to 544.2 T/h)
Steam pressure: to 2400 psig (16.5 MPa)
Steam temperature: saturated to 1005F (541C)
Construction and Turnaround Services
B&W can provide a full range of turnaround, field construction, construction management and maintenance services. Our extensive experience with large, complex projects and full-scale retrofits gives us the depth of knowledge necessary to safely construct and complete a successful project of any size at any plant site. Our team includes experts in project management, site supervision and start-up and commissioning.
Our construction personnel collaborate with our boiler design engineers early in a project's development cycle to maximize efficiencies in delivery and installation.
Benefits of B&W's industrial water-tube boilers for the oil sands industry:
Multi-circulation technology maximizes thermal efficiency, allows the addition of superheat if needed while minimizing the need to clean boiler tubes
Connection-ready, modularized boiler island construction for minimized field erection
Designed for shipping limitations imposed within the oil sands region Proven, dependable design for long-term reliable operation and availability
Integrated construction capability, along with proven regional experience, simplifies boiler installation
B&W can also supply total energy and environmental solutions that include: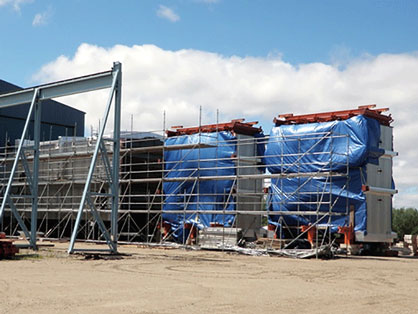 Success Story
Canadian Oil Sands - Alberta, Canada
Eight modular industrial boilers prove to be high-efficiency, high reliability, low-emissions steam generation solution.
Project Challenge
To most effectively, environmentally and reliably harness the naturally occurring petrochemical, the customer required a steam generation solution that provided:
Maximum modularization to minimize field erection costs
Ultra-low NOx emissions (7.9 g/GJ)
Minimum blowdown to comply with zero liquid discharge (ZLD) requirements
High thermal efficiency
Multi-fuel capability (gas and oil)
High availability and reliability in a -45C (-49F) environment
Fast load demand response, high turndown and ease of operation and maintenance