Technologies from Crane to Stack
Mass-Burn or Refuse-Derived Fuel (RDF)
B&W provides two options when using waste as a combustion fuel. Mass burning municipal solid waste (MSW) uses the refuse in its as-received, unprepared state. The second technique uses prepared refuse, or refuse-derived fuel (RDF), where the as-received refuse is first separated, classified and reclaimed in various ways to yield salable or otherwise recyclable products. The remaining material is prepared for firing in the boiler.
More than 650 installations utilizing B&W technology in more than 30 countries
Flexible designs to accommodate various capacities, fuel compositions and steam requirements
Experience as both a supplier to and operator of WtE facilities
Environmental equipment solutions for a wide range of emissions
Boiler Designs
Mass burning is the most common refuse combustion technology worldwide. Three major designs are used in modern mass burn power plants: 1) single-pass furnace, 2) multi-pass furnace with vertical convection pass, and 3) multi-pass furnace with a horizontal convection pass.
B&W has proven experience with designing and building all three variations, with the choice of design determined by the application. All three designs feature a furnace that is strategically arranged over the grate to control gas flow and maximize heat absorption, and thus, maximize efficiency. B&W designs the flue gas flow path to provide reasonably uniform cross-section flow and temperature distributions by using physical and/or numerical computational fluid dynamics (CFD) modeling, and empirical data. A short summary of each follows:
DynaFeeder® Waste Fuel Feeder System
Feeding of waste onto the combustion grate of a waste-to-energy plant must be continuous and adapted to the grate's transport capacity. The DynaFeeder® fuel feeder from B&W provides a continual and even fuel layer across the entire combustion grate for steady energy output and maximum efficiency.
The continuous, slow movement of the DynaFeeder is readily adaptable to changes in energy production and combustion requirements. Our DynaFeeder fuel feeder features innovative designs to improve performance, lengthen time between normal maintenance and reduce unplanned outages.
Features
Feeder rams can be taken offline one at a time while the others remain in operation, enabling replacement and maintenance of hydraulic cylinders without shutting down the plant.
Wide feeder rams reduce the number of hydraulic cylinders, reducing the overall costs for the hydraulic system.
Air-cooled feeder rams minimize wear and tear of the rams.
Changeable wear plates cover the front and top of the feeder rams, lowering maintenance costs.
Hydraulic cylinders are located outside the main fuel feeder mechanism to avoid heat exposure and increase the lifetime of the cylinders.
External manual central lubrication is included as a standard feature (automatic lubrication is available as an option).
Scrapers on top of the feeder rams prevent fined-grained waste from being dragged back and deposited behind the rams, reducing maintenance of the rams.
Cooling air pipes with cast wear bushings minimize maintenance.
Download the Brochure (PDF)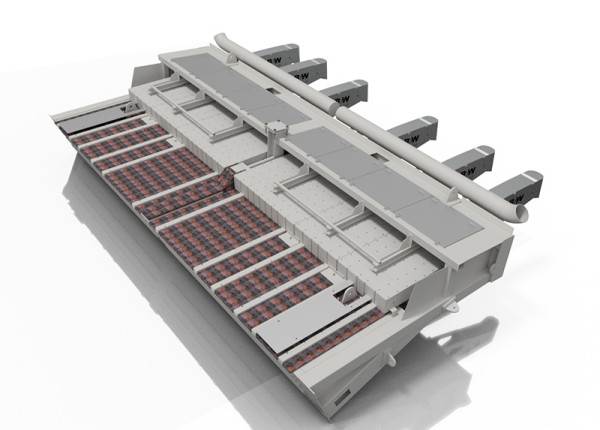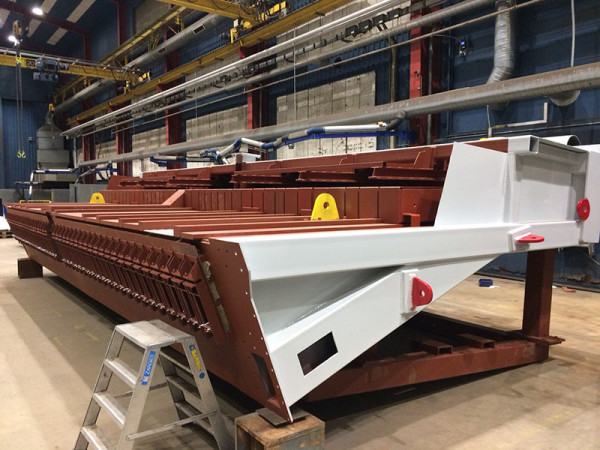 Water-Cooled Wear Zones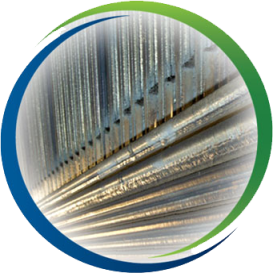 Water-cooled wear zones are an innovative, efficient, and economical way to improve operational accessibility and productivity for waste-fired power plants.
Experiences from the plants where we have installed water-cooled wear zones show that the total annual energy production has increased significantly – in many cases by as much as 25-30%. One plant is now handling 40% more waste after a conversion that includes the new wear zone technology.
Reducing maintenance costs by reducing refractory volume
Our water-cooled wear zone was developed to reduce the area of uncooled refractory in the furnace of our waste-to-energy boilers. The disadvantage of uncooled refractory is that because of high surface temperature it tends to build up large volumes of slag. This will often disturb the plant's operation and in some cases, even shut down the plant. Reducing the refractory volume also reduces maintenance costs.
Constructed to ensure stability and withstand pressure
The wear zone is fully welded construction with relatively thick-walled tubes and plates. This is primarily to ensure structural stability, but also to provide a large allowance for erosion in the wear zone.
Extra energy
More heat absorption in the water-cooled wear zone can reduce the total amount of surface area in the radiant portion of the boiler, providing additional plant output.
Less down-time
The water-cooled wear zone replaces the refractory lining in the system's most heavily used area and experience shows that a water-cooled wear zone has a longer life than refractory lining. If you have an existing waste-to-energy plant, we can build in a water-cooled wear zone during a standard maintenance outage.
VoluMix Systems
Proper, turbulent mixing of the flue gases in the boiler furnace provides a better combustion process and burn-out in the gas phase.
With the VoluMix™ system, all primary air passes through the narrow gap between the grate bars, creating a strong, turbulent combustion zone. The system is installed at the inlet of the first pass.
VoluMix ensures very low carbon monoxide (CO) and total organic carbon (TOC) content in the flue gas.
Advantages of VoluMix include:
Good mixing and combustion conditions in the furnace – gas-phase burnout
Staged combustion makes it possible to reduce the formation of fuel NOx
Avoidance of hot spots in the furnace and boiler which would speed up corrosion
Obtaining turbulent conditions for optimum burnout–low CO levels
Uniform temperature and velocity distribution in the convection passes to maximize heat transfer and residence time
Basis for low excess air resulting in high overall thermal efficiency
Eliminates the need for flue gas recirculation, saving fan investment cost, as well as operation and maintenance costs
Corrosion Protection
Combustion of municipal waste results in an environment within the boiler that is extremely corrosive. Corrosion in waste-fired boilers is primarily caused by chloride compounds which deposit on the furnace and convection pass tubes in combination with high temperatures. Proper protection from corrosion in these areas is paramount to plant availability and the successful long-term operation of these key boiler components.
A variety of solutions have been developed and used over the years to address lower furnace corrosion. One such solution is Inconel® weld overlay which was pioneered in waste-fired boilers and has gained general acceptance since the early 2000s on lower furnace walls of large mass-fired boilers.
The good corrosion resistance, high thermal conductivity, metallurgical bond to the base tube and membrane bar metals, and wear resistance have made Inconel overlay the primary approach for lower furnace corrosion protection in new designs.
B&W pioneered the use of Inconel as a solution to the lower furnace corrosion problem as well as other corrosion-susceptible areas. As early as 1986, the lower furnace tubes in a refuse-derived fuel-fired boiler in the U.S. was covered with Inconel weld overlay material. This overlay effectively minimized corrosion. Based on this experience, the industry followed B&W's lead and Inconel weld overlay was subsequently field applied to the lower furnace of a number of operating boilers.
Spiral welding capability
As leaders in the use of this technology in waste-fired boiler applications, B&W is now applying Inconel cladding to other areas of the boiler that are susceptible to corrosion, including superheaters and evaporator tubes.
The spiral welding machine at our production facility in Esbjerg, Denmark, can apply Inconel cladding to a thickness of approximately 2 mm in a continuous welding process. Up to 8 tubes can be simultaneously processed at a length of up to 12 meters. During production, operators regularly check the Inconel layer thickness and monitor the welding technical parameters on each of the eight arcs. This ensures a smooth Inconel layer that meets specifications.
The Inconel coating allows conventional carbon steel boiler tubes to be used without affecting mechanical strength, while significantly extending the service life. It provides a high level of protection against the high temperatures and aggressive flue gases that are present in the highly corrosive environment of waste-to-energy furnaces and boilers. Inconel cladding also has an extremely high resistance to mechanical abrasion.
Other Inconel machining capabilities
In addition to spiral welding capability, a robotic welding machine is utilized to apply Inconel cladding to furnace wall panels.
Cold metal transfer (CMT) welding is used to apply Inconel cladding on panel walls. In this 'cold welding' process, a minimal amount of iron melts from the tubes into the Inconel cladding. Minimizing the iron content as much as possible within the Inconel cladding is integral to improving its durability.
Inconel replaces refractory lining for tube protection. It has a proven long life and is easy to visually identify when maintenance is necessary. With refractory, tube deterioration is often hidden, which may eventually lead to increased maintenance and repair costs.
Inconel is a trademark of Special Metals Corporation and its subsidiaries.
Health, Safety and Sustainability

Focus on occupational health and safety: ISO45001
B&W Renewable's waste-to-energy operations are ISO 45001 certified. Our goal is to continually improve our work environment by managing and controlling the risks that exist at the workplace, at our own production facility in Esbjerg, at our offices, and when working on-site at clients' plants. Also, health and safety is engrained in B&W work culture via the Target Zero program. It reflects our commitment to the overall safety of each employee.
Sustainable operations: ISO14001
Our waste-to-energy operations are also ISO 14001 certified. We are committed to managing sustainability metrics such as energy use, waste reduction, recycling levels, as well as minimizing raw material and consumable use. In fact, we measure and control everything from scrap metal to hazardous waste disposal, including when we are commissioning or doing maintenance work on-site. Our focus on using metrics against environmental objectives drives more efficient operations.
Download the ISO certification