B&W's Diamond Power® Sootblowers
B&W is the original equipment manufacturer of all Diamond Power® boiler cleaning equipment, sootblowers (also known as soot blower), systems and replacement parts. Insist on the original!
Using superheated steam, saturated steam, compressed air or water, our sootblowers are trusted to remove deposits, prevent plugging of gas passes and maintain boiler efficiency. Our specialized designs and configurations meet customer needs for sootblower precision, reliability and efficiency.
B&W's product range and boiler cleaning technology are continuously enhanced via continued research and development along with feedback provided by our customers all around the world.
Diamond Power® Boiler Cleaning Parts & Service
Phone: +1 740 687 4160 or toll free within North America: 1 800 848 5086
After-hours Emergencies: 1 800 876 9762
Did You Know
Seven out of ten power plants feature B&W's Diamond Power® sootblowers.
B&W has pioneered the technology on load cleaning, developed the world's largest retractable sootblower, with travel up to 18.3 meters, on load water lancing and state-of-the-art intelligent control systems.
B&W provides sootblowing optimization using its Titanium® intelligent sootblowing system. This system integrates and upgrades B&W's legacy Sentry Series® and PowerClean® systems. The Titanium system incorporates B&W's boiler design and modeling expertise to provide critical performance information and surface cleanliness factors for improved sootblowing control.
Boiler Cleaning Applications
B&W's full line of Diamond Power sootblowers are available for all boiler cleaning applications, including fully and partially retractable, wall blowers and water lances, SCR catalyst, air heaters, and other specialty cleaning functions.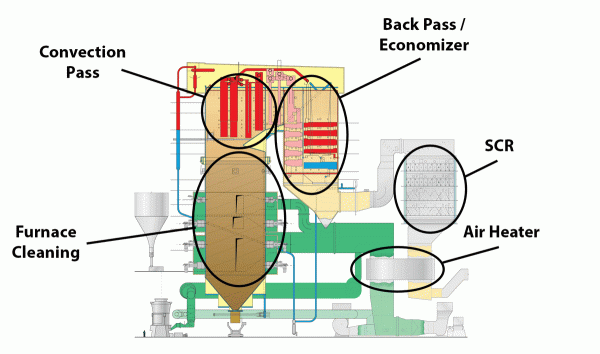 Aftermarket Parts and Services
Ensure the best possible reliability and life cycle of your plant with OEM replacement parts. B&W provides components, replacement parts, servicing and upgrades for all currently available sootblowing equipment, sootblowing equipment from other OEMs, as well as for these and many other models: