DynaDischarger® Furnace Ash Extractor
High availability with reduced risk of unplanned outages
B&W's DynaDischarger® furnace ash extractor is designed to improve performance, lengthen time between normal maintenance, reduce unplanned outages, and increase worker safety. The DynaDischarger ash extractor can be designed for new boiler systems or retrofit onto existing boilers. Installation on existing units is typically completed during normal service shutdown periods.
The DynaDischarger furnace ash extractor is configurable to your needs and application. A range of options are available to provide additional benefits not available with other designs.
Features
Increased overall size to handle larger objects. The new discharger has a longitudinal opening of 1200 mm, an increase of 200 mm from our standard discharger. It is available in widths of 2000 mm or 3000 mm.
The retractable shear wall of the discharger outlet is adjustable from 1000 mm during normal operation to 1200 mm to accommodate larger objects.
Leg-mounted design reduces the load on the steel structure of the furnace.
A bellow installed between the hopper and ash discharger provides a gas-tight seal.
The back-end of the DynaDischarger bottom ash extractor housing is designed with an inclined bottom and a large valve to facilitate drainage of water and settled ash.
When fully retracted, the discharge ram is flush with the ash discharger's front wall to reduce the risk of blockage.
Refractory-lined dampers in the top section allows internal access to the discharger through entrance doors without shutting down the plant. The dampers can also be used as a service platform in the ash chute during maintenance.
A large inspection door (610 mm wide X 900 mm high) is located above the outlet. Two additional doors on each side of the chute section improve internal access for clearing debris buildup in the chute and discharger outlet.
Easy replacement of the front steel wear plate of the discharge ram from inside the extractor.
A scraper unit on top of the discharge ram is designed to prevent objects from traveling back into the extractor housing behind the front wall.
Ash level sensors alert operators of an abnormal rise in ash levels to allow timely corrective action.
Can be installed with third-party grates.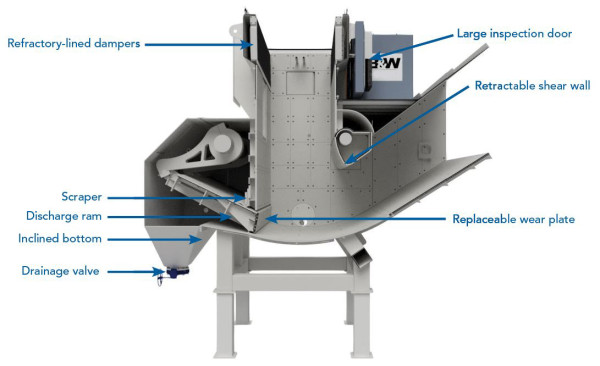 Download the Brochure (PDF)