Dry Electrostatic Precipitators (ESP)
An established history of particulate control
B&W's experience with electrostatic precipitator (ESP) technologies, both wet and dry, includes not only our established OEM experience base and expertise, but that gained through strategic acquisitions and licenses such as:
Hamon Research-Cottrell – acquired in 2022
Joy Environmental and Western Precipitation – acquired in 1995
Our combined experience includes more than 5000 worldwide ESP installations for the utility and industrial sectors in applications which utilize a wide range of worldwide fuels.

Operation and design
Since Dr. Frederick Cottrell's invention over a century ago, ESPs have been a primary technology for controlling particulate emissions. ESPs can be designed to meet stringent particulate emission standards with minimal pressure loss and high equipment reliability for extended plant operation.
Dry ESPs are employed as a primary particulate control device to remove coarse or large particulate matter (PM10) where the flue gas or process gas temperature is elevated above the dew point. Wet ESPs are typically employed at the end of the air pollution control system to polish the gas of any remaining fine particulate matter, typically less than 2.5 microns in size, and where the process gas is saturated and below the dew point.
Particles suspended in a gas enter the precipitator and pass through ionized zones around the high voltage discharge electrodes. The electrodes, through a corona effect, emit negatively charged ions into the gas which travel to the grounded collecting plates.
The ionized field around the discharge electrodes charges the particulate causing it to migrate to the grounded surface of the collecting plate.
The charged particles agglomerate on the collecting plates where the charge bleeds off. Rappers dislodge the agglomerated particulate, which falls into the collection hoppers for removal by an ash handling system.
Performance benefits: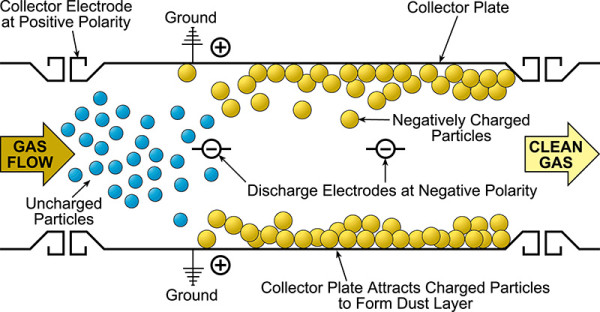 High efficiency — up to 99.9+% collection efficiency*
High temperatures — up to 800F (427C)
Wide capacity range — from a few thousand to several million actual cubic feet per minute (ACFM)
Low maintenance — reliable electrical and mechanical components provide dependable and highly efficient operation with minimal maintenance
*when integrated as part of an appropriately designed emissions control system
Design features
Collecting plates – B&W's collecting plates are manufactured under strict QA/QC standards applied to its design, procurement and manufacturing processes. Various designs can be applied to optimize particulate collection and reduce re-entrainment during rapping.
Discharge electrodes – multiple discharge electrode designs are available to generate intense and stable electric fields for each application. Discharge electrodes are grouped in independently connected bus sections with each section typically supported by four high voltage insulators for maximum stability.
Rapper system – Our rappers have a long and proven history in precipitator rapping applications. Rappers are maintained on-line and are easily installed. Depending on the application, several types of rapping systems are available.
Power supply – Advanced, cost-effective power supplies provide the required high voltage and current for optimum close-to-spark threshold. We offer both conventional transformer/rectifier sets and 3-phase power supplies. For an additional power boost to any field, B&W's JuiceCan® power maximizer is an effective, low-cost option.
Automatic voltage controllers (AVC) – Our automatic voltage controller reacts automatically to sparking while providing for maximum power input to maintain high collection efficiency.
Precipitator Manager™ control system – B&W's Precipitator Manager™ control system software delivers monitoring and control capabilities for automatic voltage controllers, rappers, analog and digital I/O, and more, all in one program.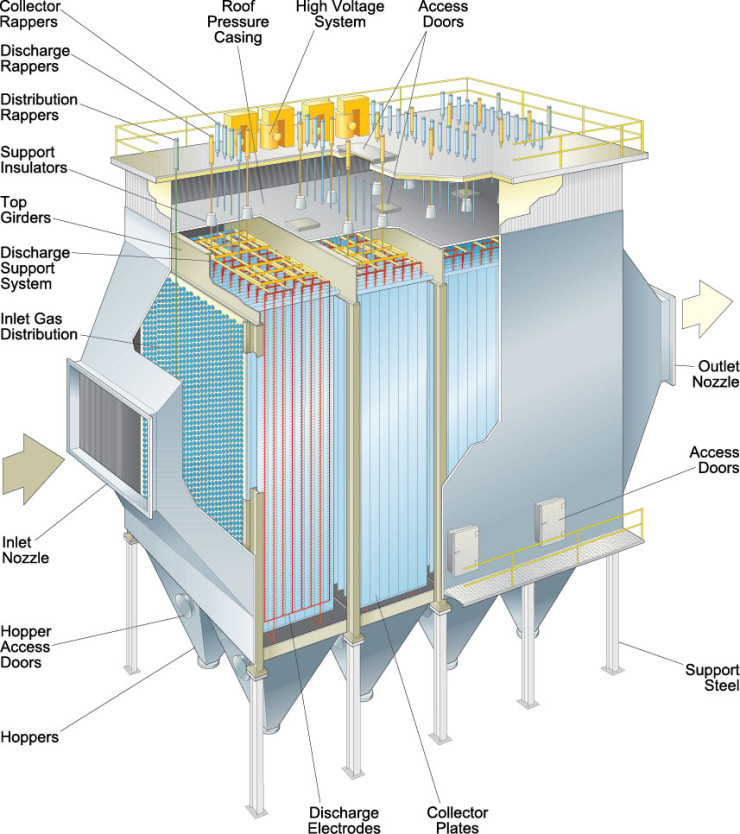 Applications
Our experience crosses a wide range of industries, including:
Power generation and independent power producers (IPPs)
Petrochemical and oil refineries
Pulp & paper
Mining and metals
Cement
Glass manufacturing
Click to view larger images.
Electrostatic Precipitator (ESP) Rebuilds & Upgrades
Improvements for decreased emissions and improved efficiency
Aging technology and lack of support from some original equipment manufacturers has resulted in lost productivity and reduced efficiency for many electrostatic precipitator systems. ESP products and services provided by B&W are designed with one goal in mind— to help keep your ESP functioning at peak performance. Our vast industry experience enables us to provide integrated solutions to enhance equipment performance, regardless of original manufacturer. B&W's ESP aftermarket parts, service and upgrade business, formerly known under the Preciptech brand name, provides engineered upgrades, quality components and services to help keep your ESP running efficiently and effectively.

Our combination of innovative products and services include:
Collector plates
Rapper components and parts
Discharge electrodes
Insulators
Single- and 3-phase power supplies and controls
Access doors and door seals
Electrical performance enhancement hardware and software
Upgrades, rebuilds and conversions
24/7 remote diagnostics
Field services and operating and maintenance training seminars
B&W can upgrade virtually any existing ESP, regardless of manufacturer.
Learn More About ESP Rebuilds and Upgrades