Water-tube Package and Industrial Boilers
B&W's line of industrial package boilers represents more than 150 years of ingenuity and experience, providing dependable performance for a wide range of industries and applications.
Over the years, our industrial boiler configurations have been known by various model names, including FM, HCFM, PFM, PFI, PFT, TSSG® and others — D-type or O-type, single-drum or multi-drum. The unique designs offered by these various models provide our customers with flexible options and features to meet any steam generation demand.
Download the Brochure (PDF)
B&W® boilers and Coen® burners: Integrated for reliability, efficiency and value
Through an agreement with John Zink Hamworthy Combustion (JZHC), B&W offers a comprehensive steam generation solution that pairs JZHC's Coen® burners with B&W's water-tube package boilers for refining, petrochemical, pulp and paper, mining, manufacturing, utilities and other industries.
Working together, the two companies offer streamlined
Sourcing
Engineering
Manufacturing and
Installation services for a greatly simplified, high-performing, low-emissions steam generation system.
Equipment can include:
Boiler
Burner, including windbox, fuel skid and PRV skid
Combustion air fan
Ammonia injection grid (AIG)
Selective catalytic reduction (SCR) reactor
Economizer
Deaerator
Stack
and more.
Backed by more than 5,000 units and 150 years of experience, B&W's water-tube package and industrial boilers have an established reputation for reliability and proven performance. They are engineered to meet unique capacity, space, fuel, emissions, transportation, installation and other requirements. They offer reliable power with low emissions, low auxiliary power requirements, simple operation, low maintenance and can be tailored for a variety of fuel options, including natural gas. Coen burners are installed in more than 15,000 plants worldwide and are engineered for optimized steam production and emissions control.
Design Features and Benefits of our Water-tube Package Boilers
Furnace wall water cooling – eliminates refractory and related maintenance
Gas-tight setting membrane – inhibits dew-point sulfur corrosion and outages caused by gas leaks
Rugged steel-based frame – supports boiler and allows jacking and skidding
Outer lagging – galvanized, weather-tight for outdoor installations
Drum internals – ensure positive circulation, low moisture, high steam purity
Larger tube diameter (2.5 in. [6.35 cm] tubes spaced 1 in. [2.54 cm] apart) – contributes to a faster load response and helps prevent membrane thermal cracking
Grooved tube seats – protect against leaks during transportation and throughout operation
Solid membraned division wall – prohibits furnace gases from bypassing generating tubes
Water wash troughs and drains – facilitates offline water-washing
Inverted loop, fully drainable superheaters – saves time during startup while minimizing the chances of over-heat during the pressure-raising stage.
Sootblowers – for effective cleaning of the superheater, generating bank and other heat transfer surfaces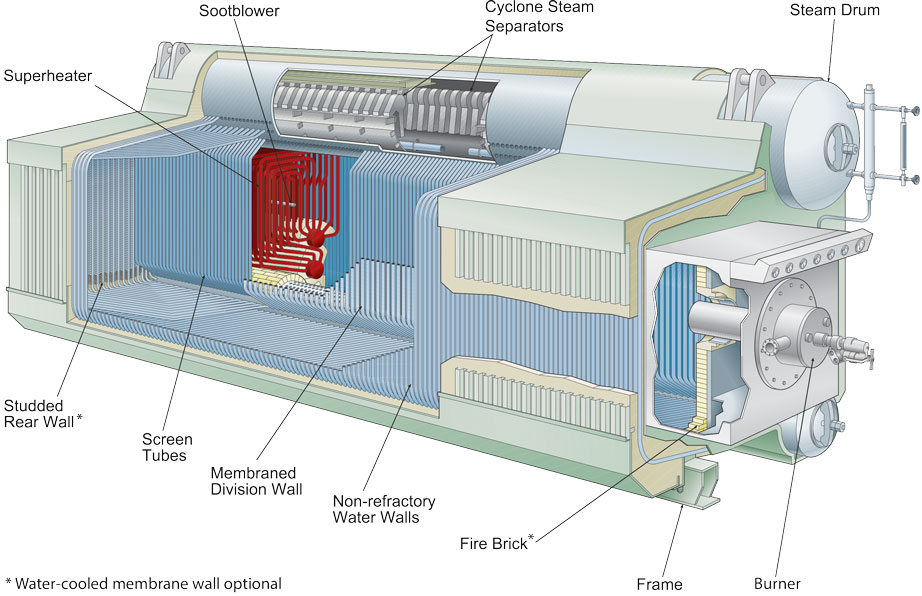 B&W package boilers offer:
Reliable steam generation
Low auxiliary power requirements
Low emissions
Simple operation and low maintenance
Operational flexibility – high turndown and fast load ramping
Capacities to Meet the Most Demanding Requirements
Within a range of standard sizes and capacities, our industrial water-tube package boilers are custom-engineered to each project's unique specifications for varying inputs and desired outputs. All our designs feature the high levels of quality, reliability and efficiency for which B&W is known.
Boilers
Capacity Range* (lb/h)
Length
Width
Height
Drum Size

FM 9-22
26
30
34
39
43
48
52
57

8,200

to
40,000

7 ft 7 in
8 ft 11 in
9 ft 11 in
11 ft 3 in
12 ft 7 in
13 ft 11 in
15 ft 3 in
16 ft 7 in
17 ft 11 in

10 ft 2-7/8 in

12 ft 4 in

36 in Steam Drum

24 in Lower Drum

FM 10-52
57
61
66
70
79
FM 101-88

35,000

to
75,000

16 ft 7 in
17 ft 11 in
19 ft 3 in
20 ft 7 in
21 ft 11 in
24 ft 7 in
24 ft 3 in

10 ft 10-5/8 in

11 ft 2-3/8 in

13 ft 6 in

36 in Steam Drum

24 in Lower Drum

FM 103-70
79
88
97
70,000
to
100,000

21 ft 3-3/16 in
23 ft 11-3/16 in
26 ft 7-3/16 in
29 ft 11 in

11 ft 9 in

13 ft 9-3/4 in

42 in Steam Drum

24 in Lower Drum
(Optional 30 in)

FM 106-79
88
97
FM 117-88
97

100,000
to
155,000

23 ft 11-3/16 in
26 ft 7-3/16 in
29 ft 3-3/16 in
26 ft 7-3/16 in
29 ft 3-3/16 in

11 ft 9 in

11 ft 11-1/4 in

14 ft 3 in

15 ft 4-1/2 in

48 in Steam Drum

24 in Lower Drum
(Optional 30 in)

FM 120-97
112
124
FM 160-124

155,000

to
275,000

29 ft 3-3/16 in
33 ft 7-3/16 in
37 ft 3-3/16 in
37 ft 3-3/16 in

12 ft 5-3/8 in

14 ft 0-3/8 in

16 ft 10-1/2 in

20 ft 0-1/2 in

54 in Steam Drum
(Optional 60 in for FM 160-124)

24 in Lower Drum
(Optional 30 in)
Steam Capacity
Steam Pressure
Steam Temperature

HCFM
200,000 to 350,000 lb/h
(90.6 to 158.6 T/h)

to 1250 psig (7.2 MPa)
to 825F (441C)

PFM
200,000 to 600,000 lb/h
(90.6 to 271.8 T/h)

to 1800 psig (12.4 MPa)
to 900F (482C)

TSSG
300,000 to 1,200,000 lb/h
(135.9 to 543.6 T/h)

to 2400 psig (16.5 MPa)
to 1006F (540C)
Notes:
1. All package boilers are of membrane construction.
2. Because of B&W's constant effort to improve design, equipment supplied may differ slightly from that described above.
* Steam capacities shown are saturated steam. Capacities will vary depending on conditions and limitations.
Metric Conversions:
inches x 25.4 = mm
inches x 2.54 = cm
feet x 0.3048 = m
lb/h x 0.000453 = T/h
lb/h x 0.000126 = kg/s
Package Boiler Designs
We can provide both D-Style and O-Style boiler configurations.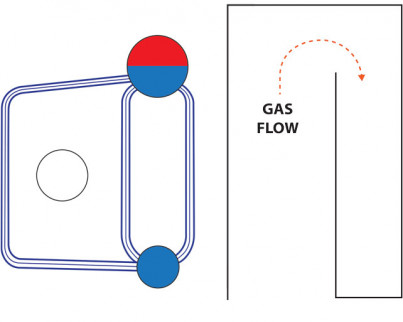 One steam drum and one lower drum
Drums centered over each other with furnace offset to one side
One generating bank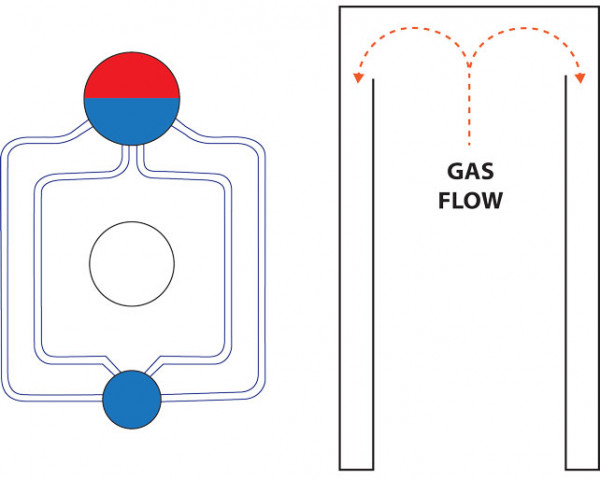 One steam drum and one lower drum
Drums centered over each other with furnace in center of boiler
Two generating banks
Auxiliary Equipment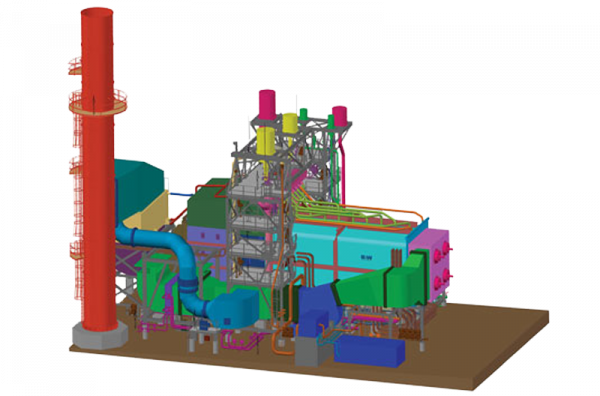 Economizers
Burners
Controls
Forced draft fan and drives
Flues and ducts
Stacks
Deaerators, feedwater pump sets
Oil pumps
Heater sets
Post-combustion emissions control systems
Code piping
Balance of plant
Aftermarket Support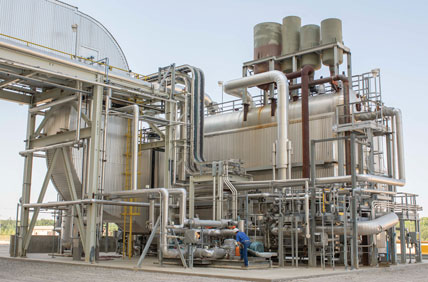 B&W's network of field service engineers can provide services ranging from routine inspections and controls tuning to engineering studies, low emissions conversions or new control systems.
Manufacturing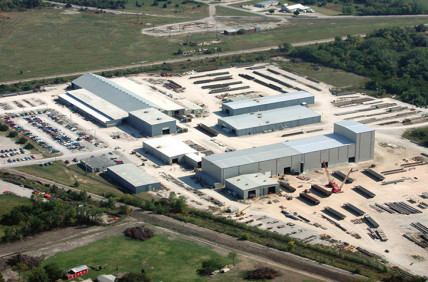 B&W's custom industrial package boilers can be fabricated in our Chanute, Kansas, USA, manufacturing facility. All major boiler components are fabricated and assembled in-house to ASME Boiler and Pressure Vessel Code Section I or Section VIII.