Submerged Grind Conveyor System
Patented, proven technology simplifies installation and operation for superior ash handling
The challenge to effectively and reliably meet regulatory targets for bottom bottom ash handling has often required plant operators to make significant investments in equipment modifications.
Babcock & Wilcox Environmental set out to develop a new conveyance technology that not only met effluent limitation guidelines (ELG) and coal combustion residuals (CCR) requirements, but also considered unique plant layouts in providing a highly durable, simplified and more cost-effective solution. The result? B&W developed, patented and has supplied numerous successful installations of its Allen-Sherman-Hoff® Submerged Grind Conveyor (SGC) system, which offers maximized results and minimized modifications to the existing footprint.
B&W's new submerged grind conveyor offers a simplified and cost-effective system that meets zero-discharge bottom ash removal requirements with consideration to each unique plant layout.
Download The Brochure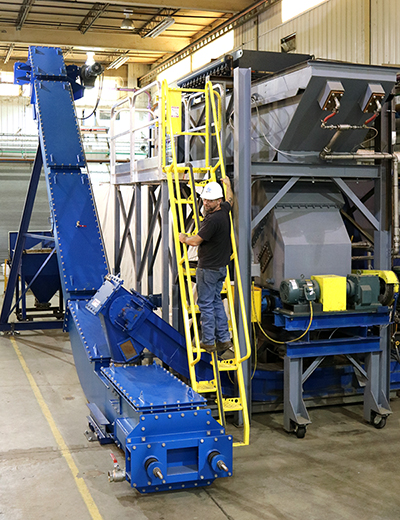 Designed for Flexible Installation and Ease of Operation
Every aspect of our SGC's design took into account the impact of a retrofit from its initial installation through its ongoing operation. Because our SGC is small and compact — and doesn't require the removal or displacement of bottom ash hoppers or slag tanks, ash gates, clinker grinders, transfer enclosures and other existing equipment — installation can be accelerated to save time at a lower cost than other bottom ash conveyance systems. The simpler, mechanical transfer conveyor design has low auxiliary power requirements and low maintenance costs.
To ease maintenance over time and use of the conveyor, the existing ash gate was designed to isolate the conveyor from the ash hopper. The boiler can stay online since ash can be stored in the existing ash hopper, and the conveyors are equipped with variable speed drives to make up for any resulting slowdown.
All with the durable construction, high performance, predictable results and trusted reliability you have come to expect from B&W and the Allen-Sherman-Hoff line of material handling solutions.