Patented Diamond Power® SpoutRunner™ Rodding Robot for Safe, Automated Spout Cleaning
Designed for Safety and Durability
Engineered to address the most dangerous task in recovery boiler maintenance, the SpoutRunner™ system automates the rodding of smelt for the safety of pulp and paper mill personnel.
Simple to operate, it consists of a hinged pneumatic drive that, when activated, uses gravity and pneumatic force to travel up and down the spout with a custom-designed cleaning head that safely and reliably clears the smelt away.
Benefits
Minimizes operators' time spent around the volatile spout deck
Durable design made to withstand harsh operating environments
Continuous spout cleaning provides undisturbed flow
Easy to integrate with existing spout hood
Quick setup/removal for easy maintenance
Simple to operate, superior performance and more cost-effective than most comparable offerings

Designed for Flexibility
The SpoutRunner system does not interfere with normal spout operation, and manual rodding is still possible, if needed. It can be fully integrated with the unit's existing hoods or installed with custom hoods, and is easily mounted and removed.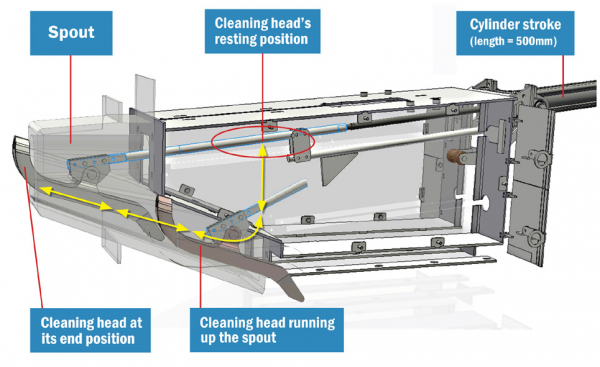 Download the Brochure (PDF)