SPIG® Cooling Systems
B&W Environmental, through its SPIG® product line, operates globally supplying an extensive range of turnkey cooling systems. Since 1936, we have designed, engineered and installed many state-of-the-art cooling system projects for a wide range of industries:
Oil and gas
Petrochemical
Power generation
Cogeneration and combined cycle
District heating and cooling
Waste-to-energy
Our experience includes wet cooling (mechanical and natural draft) systems, dry cooling systems and hybrid cooling solutions as dictated by site-specific requirements. We design plants for a wide range of project requirements such as high seismic and wind loads, vibration control, corrosion resistance, low-noise emission, sub-freezing operation, and seawater applications.
Specialized services include preventive maintenance, equipment upgrades, replacement and spare parts, online performance monitoring, and a commitment to research and develop efficient cooling system solutions.
Competencies
Wet cooling systems
Wet cooling continues to be the most efficient way to cool plant equipment when fresh, sea or sewer water is available.
Mechanically induced and forced draft cooling towers
Hybrid cooling towers
Natural draft hyperbolic towers
Dry cooling systems
Dry cooling technology is becoming increasingly common as plant owners and operators look for ways to preserve water usage.
Air-cooled condensers (ACC)
Air-finned coolers (AFC)
Aftermarket services
Engineered upgrades, replacement parts, maintenance services and online monitoring systems on SPIG and other OEM cooling systems designs
Specialized capabilities, including noise and vibration control, plume abatement and water-saving technologies.
Cooling System Center of Excellence
Paruzzaro, Italy, is home for SPIG® cooling system solutions, engineering, sales, project management, procurement, logistics, quality control, administration, and other specialized service functions. In addition, more than 500 square meters of laboratory space was built for R&D purposes.
More than 8000 square meters of indoor and outdoor warehouse space is available to store parts and other equipment. The warehouse is equipped with three loading docks and includes a bar-coding system to enable timely deliveries.
In 2020 we completed the installation of a state-of-the-art research facility to test components for wet and dry technologies. At this specialized technology center, a dedicated team of experienced R&D engineers conduct thermal performance research on filling and nozzles, drift eliminator efficiency testing, noise tests on a variety of components, nozzle efficiency testing, and multi-row bundle testing, among many other tests. These activities are aimed to improve product quality, performance and dependability.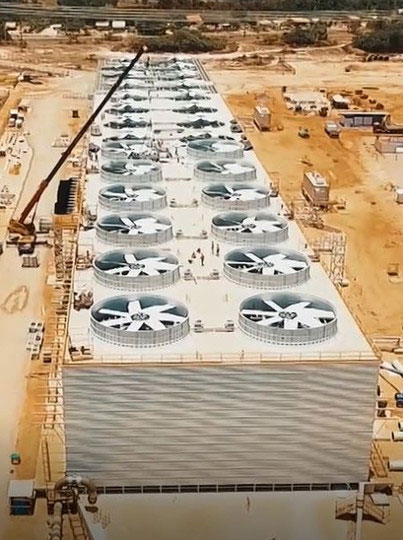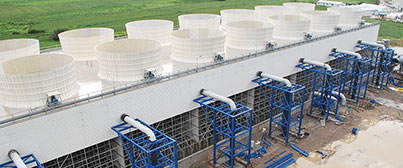 Applications
Power generation
Combined cycle and cogeneration
District heating and cooling
Oil and petrochemical
Steel and metals
Pulp and paper
Food processing
General industrial and manufacturing
Waste-to-energy