For a net-zero future
Babcock & Wilcox News
Leading the world in clean power production technology
Douglas E. Lindsey Named 2023 Babcock & Wilcox Engineering Honors Award Winner
Posted April 27, 2023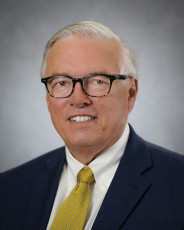 (AKRON, Ohio – April 27, 2023) – Babcock & Wilcox (B&W) announced today that Douglas E. Lindsey has been named the 42nd recipient of the B&W Engineering Honors Award. During his more than 50 years of service, Lindsey has demonstrated invaluable engineering and problem-solving abilities that have helped countless customers conquer daunting challenges with their equipment and facilities. He is widely respected by colleagues and is a trusted mentor to co-workers.
Lindsey is known as a keen listener and detail-oriented problem solver who goes the extra mile to help customers and to mentor colleagues. His expert knowledge of boiler performance and controls contributed immensely to improving the performance of B&W's water-tube package boilers and boiler control systems.
"In Doug's five decades of committed service to B&W, our customers and his co-workers, he has truly exemplified the spirit of the B&W Engineering Honors Award through his diligent work, attention to detail, technical acumen and mentorship," said B&W Chief Strategy and Technology Officer Brandy Johnson. "He is extremely deserving of this honor and I congratulate and thank him for his service to our company, and for all he has done to advance the engineering profession and the careers of others throughout the industry."
Lindsey joined B&W as an apprentice and began work as a Field Engineer in the company's Chicago service office in 1978. He returned to B&W's former Barberton, Ohio, offices in 1996, completing the company's Principal Engineering program.
A native of Bellevue, Ohio, and a resident of Fairlawn, he is a member of the American Society of Mechanical Engineers (ASME). He is known as an expert in package boilers, plant start-up and commissioning and field-managed projects.
The B&W Engineering Honors Award was conceived in 1983 to recognize individuals who are selected by their peers for their extraordinary long-term contributions, commitment, hard work and efforts have left an enduring mark of excellence on their colleagues, the company and its customers.
About Babcock & Wilcox
Headquartered in Akron, Ohio, Babcock & Wilcox Enterprises is a leader in clean energy and environmental products and services for power and industrial markets worldwide. Follow us on LinkedIn and learn more at babcock.com.
---