For a net-zero future
Babcock & Wilcox News
Leading the world in clean power production technology
B&W Partners with Power Africa
Posted July 17, 2018
July 17, 2018
Babcock & Wilcox (B&W) is the latest company to join a partnership that connects U.S.-based energy sector businesses with projects in electricity-scarce regions of sub-Saharan Africa.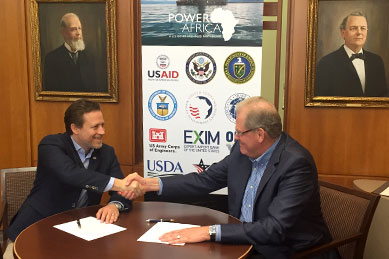 B&W leaders recently met with members of Power Africa, a U.S. federal government program created in 2013 to facilitate electricity projects in Africa while supporting U.S. companies involved in these projects. The visit included a tour, as well as discussions about how B&W can help Power Africa achieve its goal of increasing access to reliable, affordable, and sustainable power in Africa. While B&W has worked with Power Africa in the past, signing on as a partner represents a more formal business relationship.
According to Mark Low, senior vice president of B&W's Power segment, the benefits of joining the partnership could be significant, and there is no cost involved for B&W. "To be a part of a movement to help the African economy and infrastructure by providing the power generation and environmental technologies for which we're known is in complete alliance with our mission, too," said Low. "We have products and services that could make an important difference in this region of the world, and partnering with Power Africa and its established industry resources may help us more easily gain access to influential decision makers on any coal and renewable energy projects we elect to pursue there. In particular, we see opportunities to retrofit low NOx burner, flue gas desulfurization (FGD), and particulate control technologies as well as new build coal circulating fluidized-bed (CFB) and biomass boilers."
In its first four years, Power Africa facilitated the financial close of nearly 100 power transactions, which helped more than 50 million people secure access to electricity for the first time. It is well positioned to achieve the Electrify Africa Act of 2015 goals of adding 30,000 MW of new power generation by 2030, benefiting more than 300 million people.
Be sure to follow B&W's posts under the #PowerAfrica hashtag on Facebook, Twitter and LinkedIn to learn more about our involvement with Power Africa.
Explore our power generation capabilities
About B&W
Babcock & Wilcox is a global leader in energy and environmental technologies and services for the power, industrial and renewable markets. With headquarters in Barberton, Ohio, USA, B&W companies employ approximately 4,000 people worldwide. We have been transforming our world for over 150 years.
---