Success Stories
From The Leader in Clean Power Production Technologies
Comanche Station Units Case Study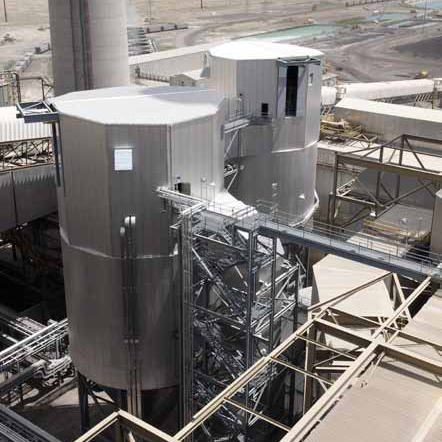 Comanche Station Units 1, 2 and 3 Dry Flue Gas Desulfurization Systems
Babcock & Wilcox (B&W) dry flue gas desulfurization (FGD) systems feature a combination of design components to provide a level of reliability and sulfur dioxide (SO2) removal efficiencies that are among the highest in the industry.
B&W is the exclusive North American licensee of GEA Process Engineering A/S, Denmark, for the GEA Niro spray dryer absorber (SDA) process. The GEA Niro SDA is globally recognized by the power generation industry as the dry FGD technology of choice.
Features of the system include a unique flue gas dispersion system for optimal gas and reagent mixing, a low maintenance rotary atomizer with a slurry capacity that is among the highest in the industry, large SDA chambers, and a complete reagent recycle system. Benefits include high SO2 removal efficiency, integral mercury emissions reduction, low capital cost, high system availability, and low operation and maintenance costs.
Boiler/Plant Information
Unit 1: 360 MW gross
Unit 2: 365 MW gross
Unit 3: 830 MW gross
Boiler type: Pulverized coal-fired
Design fuel: Powder River Basin (PRB) subbituminous
Project Summary
Supply and installation of a complete dry flue gas desulfurization system, including reagent preparation and recycle, for Units 1, 2 and 3; pulse jet fabric filter for Unit 3.
Type: Lime spray dryer absorber (SDA) system
Startup dates: 2008 (Units 1 and 2) and 2009 (Unit 3)
B&W Scope
- Unit 1 – 2 SDAs
- Unit 2 – 2 SDAs
- Unit 3 – 3 SDAs
Recycle ash systems
Lime rail car unloading systems (common for all units)
Lime slaking systems (common for all units)
2 x 10 compartment pulse jet fabric filter for Unit 3
Mercury removal system
Piping, supports, elevators and freeze protection systems
2 x 12,500 hp induced draft axial fans for Unit 3
Structural steel, flues, dampers, and enclosures
Construction of all B&W supplied equipment and structural steel, through Babcock & Wilcox Construction Co., Inc. (BWCC), a B&W subsidiary
Commissioning
Results
The project met every engineering, fabrication and construction schedule milestone. The commissioned units are currently meeting all performance guarantees.
---