For a net-zero future
Babcock & Wilcox News
Leading the world in clean power production technology
[VIDEO] An Overview of the IK-555 Long Travel Retractable Sootblower
Posted August 27, 2019
August 27, 2019
In this short video at our Lancaster, Ohio facility, Brad highlights some of the strengths of our IK-555 sootblower.
Steam generating plants are cleaned online by regularly removing ash deposits that accumulate on heat transfer services. This maintains maximum thermal efficiency and maintains flue gas temperatures, which in turn supports optimum operation of emissions control equipment. Online cleaning also prevents the blockage and plugging of gas passages. In developing the most efficient and cost-effective way to clean large boilers that burn a variety of fuels in any operating condition, B&W introduced the Diamond Power® IK-555™ long travel retractable sootblower.
Key Components: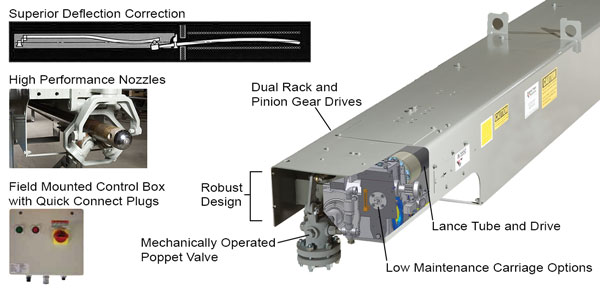 Superior Deflection Correction

A contoured rack prevents the nozzle from traveling outside a controlled, small radius. This advanced lance tube deflection, combined with a specific nozzle helix, provides effective cleaning over the complete boiler tube surface, maintaining a consistent cleaning path without whipping.

Low-Maintenance Carriage Options

Equipped with a severe duty gearbox to match your application, the carriage includes a common lubrication reservoir for the drive gear and lance hub for a full circulating bath during operation. With the industry's only all-clad stainless steel stuffing box, all Diamond Power carriages also undergo final fit tests with gear rack alignment, providing for proper gear alignment and maximum service life.

Carriage Option

: The PowerTrain® carriage, designed for harsh operating conditions and frequent cycles, offers high-temperature service, without periodic maintenance.

Carriage Option

: The IK-555 sootblower can also be supplied with an IK-555CR™ carriage. This is of particular interest to customers who have existing IK-555 sootblowers. The IK-555CR gear box combines the features of an updated, low-maintenance design, while providing an interchangeable carriage for existing IK-555 sootblowers.

High-Performance Nozzles

High-performance venturi nozzles deliver maximum blowing with minimal erosion impact. This efficient use of the blowing medium aids in the cleaning process, and contributes to economical operation of the sootblower.

Lance Tube and Drive

Dual rack and pinion drives provide lance stability and equalized driving torques during forward and reverse travel of the blower.

Robust Design

To simplify operation and maintenance, the enclosed construction of the box-type beam provides maximum protection for all working parts. Only one traveling motor, to both propel and rotate the lance, is required.

Mechanically Operated Poppet Valve

The solid mount poppet valve mounting, hydrostatically tested at 1.5 times the operating pressure, is separate from the feed tube mounting. A 2-bolt attachment allows quick removal of the feed tube without disconnecting the poppet valve. This unique design gives the IK-555 sootblower the industry's highest steam piping load capacity.

Dual Rack and Pinion Gear Drives

The pinion gear is held at precisely the right position in the gear rack by a solid square bar roller support. This allows the full involute gear drive set to achieve smooth rolling contact between the rack and gear faces, even after years of service.

Field-Mounted Control Box

The IK-555 sootblower meets NFPA standards for arc-flash protection. Water- and dust-tight and fully compliant with OSHA electrical shock avoidance standards, the control box can be mounted at any point along the beam or at an alternate location for convenience and safety. The simple bracket and quick connect power supply system allow the control box to be shipped and mounted separately, which reduces shipping costs and risk of damage.

Optional Indexing Mechanism

The optional Diamond Power progressive helix mechanism will index the lance tube an exact, predictable amount at the start of each blowing cycle. This improves boiler tube cleaning coverage, reduces boiler tube erosion caused by excessive sootblowing, and reduces lance tube heat set by allowing the lance tube to come to rest in a different rotational orientation at the end of each cycle.

Quick tip: If you need to order parts, simply reference the model number on the side of the sootblower.
Discover our sootblower options
About B&W
Babcock & Wilcox is a global leader in energy and environmental technologies and services for the power, industrial and renewable markets. With headquarters in Barberton, Ohio, USA, B&W companies employ approximately 4,000 people worldwide. We have been transforming our world for over 150 years.
---