For a net-zero future
Babcock & Wilcox News
Leading the world in clean power production technology
In the Spotlight at ENERUM
Posted August 30, 2022
(Jump to the bottom of the page to watch the podcast)
Earlier this month, Babcock & Wilcox (B&W) participated in the ENErgy foRUM known as ENERUM. The event brings local, state and national industry leaders together "to give insight, generate new ideas and develop solutions to the challenges we face today and in the future."
ENERUM 2022 – held in Columbus, Ohio, Aug. 1-3 – proved to be an intellectual hotspot for the sharing of bold ideas and actionable solutions to address current and anticipated energy challenges. During the event, B&W's Sr. Technology Development Manager Denis Osowski sat down with facilitator, Matthew Winklestine, for a live podcast to talk about the current energy transition and B&W's role in leading it.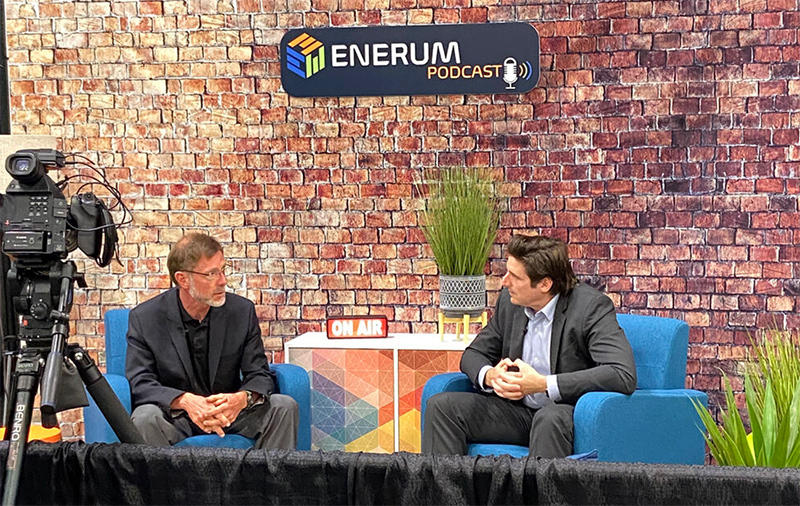 The podcast covered various and important topics, including:
B&W's portfolio of technologies
Osowski talked about B&W's history and how its portfolio has continued to evolve in depth and breadth. We support today's needs while always looking for what's coming next with technologies researched and developed in house. Our suite of decarbonization technologies, ClimateBrightTM solutions, are based on foundational principles of heat transfer, boiler and material circulation and many commonalities for the development of carbon capture, chemical looping, oxyfiring, hydrogen firing – all not far from our base of expertise.
B&W's environmental legacy
B&W is a leader in environmental technology development. We have an extensive experience list in wet and dry scrubbers alike for emissions reduction. Those are two technologies. There are many more. Focusing on decarbonization technologies was a natural progression.
Carbon and hydrogen, the next frontier
B&W R&D efforts have focused on carbon and hydrogen for decades. But according to Osowski, "the hydrogen bubble feels different this time." Global societies pushing for cleaner energy, private sectors contributing financially, rising prices for power, and accelerated technology development are contributing to the movement. B&W is well positioned to help with utilization and capture with hydrogen burners, hydrogen-fueled package burners and chemical looping technologies.
"We're out to prove that you can produce hydrogen at a viable cost that can actually be used in industry," Osowski said.
Drivers
Osowski discussed how economics are always a huge factor in project development. He also highlighted that for some industries, hydrogen is one of the only pathways to decarbonization. This includes aviation, cement, rail, steel, ocean shipment and others.
He also discussed how the USA is market driven and hesitant to put regulatory prices on carbon. The rest of the world opens opportunities, "but we believe our technology can be economical regardless of policy, which is a primary consideration when you want to deploy a technology."
ESG profiles are also drivers, with investors becoming more active in companies' strategic direction.
What B&W brings to the table
B&W's ClimateBright suite of decarbonization solutions includes technologies that are developed and ready for commercial scale. SolveBrightTM is a solvent-based carbon capture technology developed with the University of Texas. There is great interest overseas in Europe for this technology on the back end of waste-to-energy units.
Developed with The Ohio State University, BrightLoopTM is a platform technology that can accommodate a wide variety of feedstock. While the process produces hydrogen, steam or syngas, it isolates CO2 for whatever is needed: sequestration, enhanced oil recovery, or other beneficial uses. It is advantageous in its scalability and flexibility.
Supporting plants today
B&W is committed to supporting our thermal business, whatever their fuel. "Practically speaking, we need plants to run," Osowski said. The impact of stranding plant assets on our customers' local communities is too great to ignore. He added that the energy transition is going to be bumpy, with many unknowns. "It's hard to tell where things are headed and at what speed. Reports say go fast, and to the extent that we can be part of it, that's very exciting."
ABOUT ENERUM
​ENERUM was originally founded in 2001 as the AEP Boiler Reliability Optimization Forum then changed to the Generation Optimization Forum until 2019. The event primarily incorporated generation topics and attendees from the major utility. This rich history gave way to launching the new event and the rebranding that is now known as ENERUM. The conference includes generation, transmission and distribution with areas of interests including nuclear, fossil, gas, oil, solar, wind, hydro, thermal, biomass, SMRs, waste-to-energy, battery storage, CHP, and or microgrid energy. (from enerum.us)
---