For a net-zero future
Babcock & Wilcox News
Leading the world in clean power production technology
Global CCS Institute lists top clean energy innovators in 2023 report
Posted September 1, 2023
A carbon capture and storage (CCS) technology compendium compiled by the Global CCS Institute was just released, and includes a comprehensive feature of B&W's ClimateBright™ decarbonization technologies.
"There is an urgent need for innovative, new technologies to reduce greenhouse gas emissions to tackle climate change and meet net-zero targets," writes Matt Loughrey, the Institute's Principal of CCS Technologies. "Carbon Capture and Storage covers a range of technologies that will be crucial in supporting these global efforts."
The report titled "State of the Art: CCS Technologies 2023" highlights five B&W technologies that address CO2 emissions:
BrightLoop™ chemical looping that results in separate streams of CO2 and oxygen depleted air, allowing for the capture of CO2
SolveBright™ post-combustion capture process that uses regenerable solvents to capture CO2
OxyBright™ oxy-fuel combustion that purifies the flue gas stream to simplify the capture of CO2
BrightGen™ hydrogen combustion eliminates the generation of CO2 by switching to a non-carbon-based fuel
Flue gas pre-treatment technologies that control SO2, SO3 and other emissions that can cause loss of CO2 capture solvents
Download the feature for details on these technologies (PDF):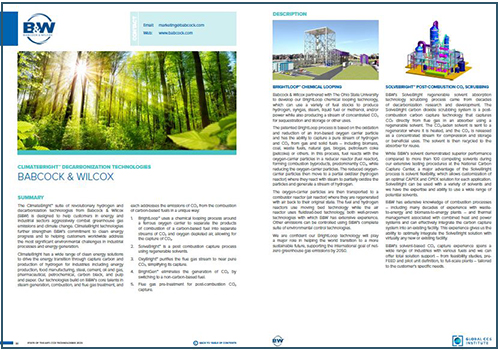 You can also view the entire compendium on the GCCSI website.
---