For a net-zero future
Babcock & Wilcox News
Leading the world in clean power production technology
B&W strengthens environmental offerings with Hamon Research-Cottrell emissions control technologies
Posted January 4, 2023
With the addition of Hamon Research-Cottrell (HRC) experts, technologies and experience to our environmental portfolio, B&W has even more options for helping customers reduce emissions and produce cleaner energy.
Background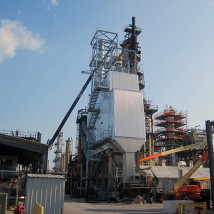 The former Hamon Research-Cottrell got its start in 1906 when Dr. Frederick Gardner Cottrell, a physical chemistry professor at University of California, Berkeley, proved his invention for precipitating sulfuric acid in a small test unit. He applied and received a patent for his electrostatic precipitator (ESP) design in 1908. In 1912, he and other patent holders from around the world formed The Research Corporation, and the technology has advanced technically and geographically ever since.
Enhanced Product Offerings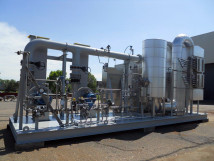 Hamon Research-Cottrell environmental technologies enhance B&W's already-robust portfolio of advanced air quality control system (AQCS) technologies and processes, including:
Enhanced Service Offerings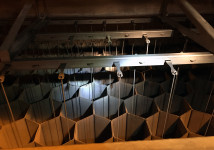 B&W serves as the original equipment manufacturer (OEM) of all Hamon Research-Cottrell environmental products and services. The addition of HRC technologies also broadens our experience and installation base for parts, repairs, upgrades, performance optimization, inspections, maintenance and construction.
HISTORIC MILESTONES
1906
Dr. Frederick G. Cottrell proved his ESP technology on a lab test unit
1907

Dr. Cottrell formed the International Precipitation Company to bring the ESP to market​

Western Precipitation was established as a licensee in California

Commercial feasibility of Cottrell's ESP was first demonstrated at E.I. DuPont de Nemours Powder Works in Pinole, California

1908
Patent no. 895,729 awarded for Cottrell's ESP design
1912
The Research Corporation was ​established
1954
Company renamed to Research-Cottrell ​
1959
Western Precipitation acquired by Joy Manufacturing, which combined operations with Joy's Allen-Sherman-Hoff unit to form Joy Environmental Technologies
1995
Babcock & Wilcox acquired Joy Environmental Technologies
1998
Through acquisition Research-Cottrell became Hamon Research-Cottrell

2003

B&W licensed wet ESP technology from FLS

2010

B&W acquired Gotaverken Miljo (GMAB), a leading European provider of flue gas treatment and energy recovery technologies

2010 ​

B&W acquired the Preciptech/BHA brand of dry ESP technology from GE to enhance its already robust product offerings of aftermarket ESP parts and services.

2022

B&W acquired all business assets and technologies of Hamon Research-Cottrell, Inc.
---