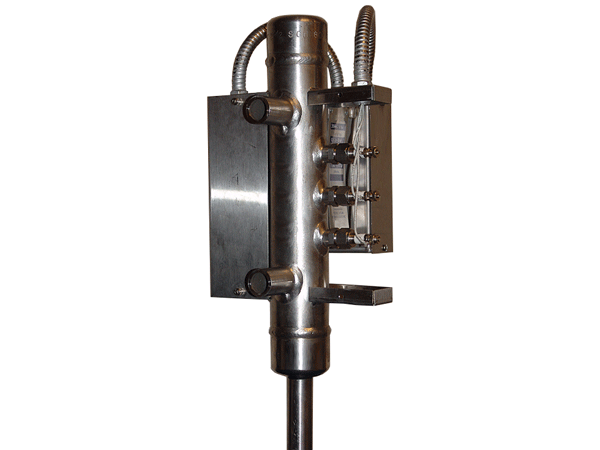 Multi-Probe Electronic Level Indicator
Provides basic level indication utilizing vacuum-brazed probes for boiler drum, feedwater heaters and other liquid level applications. The multi-probe column is custom manufactured to provide the most accurate indication for any application.
Ported Level Gauge (Bi-Color) and Illuminator System
This 3000 psi (207 bar) ported gauge produces a red/green image to indicate the water level in a high-pressure steam drum. Light projected through steam produces a red image. Light projected through water is refracted (bent) and produces a green image. The red/green image is produced by an array of solid state light emitting diodes (LEDs) and precision lenses that focus the image through the gauge body onto the display.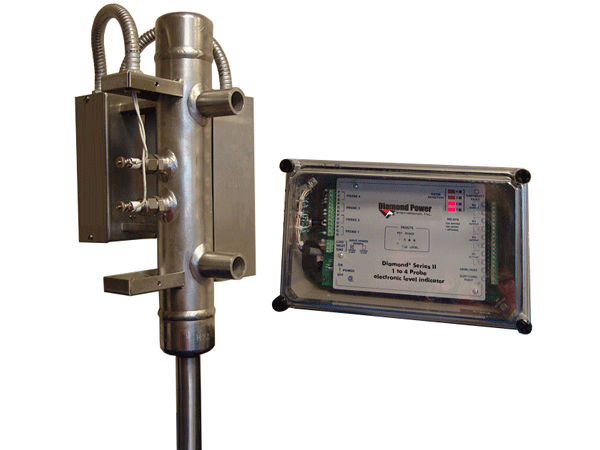 1 to 4 Probe Electronic Level Indicator
Equipped with one to four probes which are mounted in a column, the 1 to 4 probe measures the difference in resistance between high purity water and steam. In addition to level indication, this probe provides relays for each probe, enabling it to serve as a system trip, alarm or on-off control device. The system is completely field configurable to provide maximum versatility.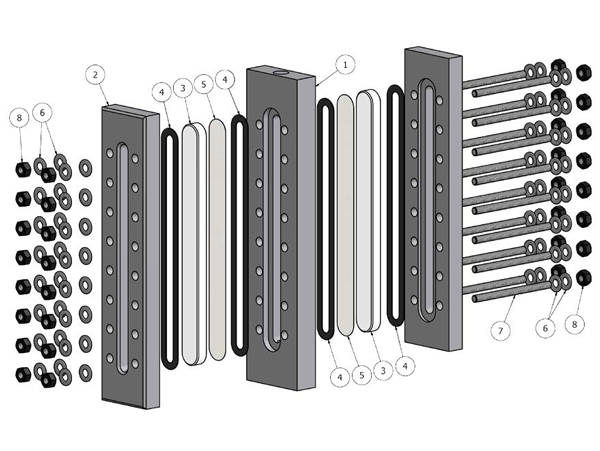 1000FG Transparent Gauge
Designed to meet the latest ASME Boiler and Pressure Vessel Code, this gauge eliminates areas where the liquid level cannot be readily determined due to cross webbing. To meet this standard and still maintain the structural integrity of the gauge, bodies are made thicker and longer to resist deflection.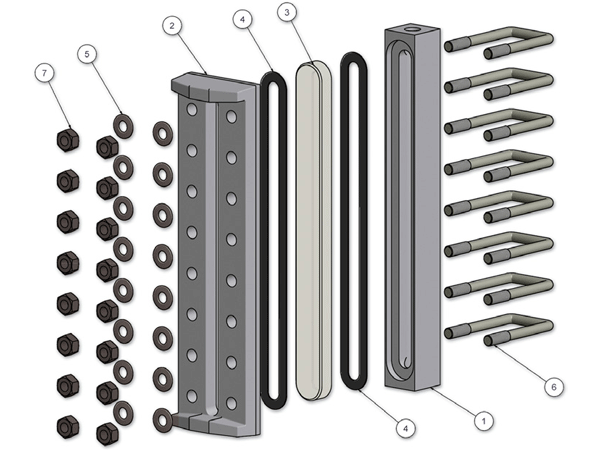 Reflex Gauge
The reflex gauge provides excellent visibility of liquid level. Light refracting grooves in the glass cause liquid to appear black and gas to appear white. The high contrast between liquid and gas allows gauges to be stacked on top of one another without concern for blind spots between gauges.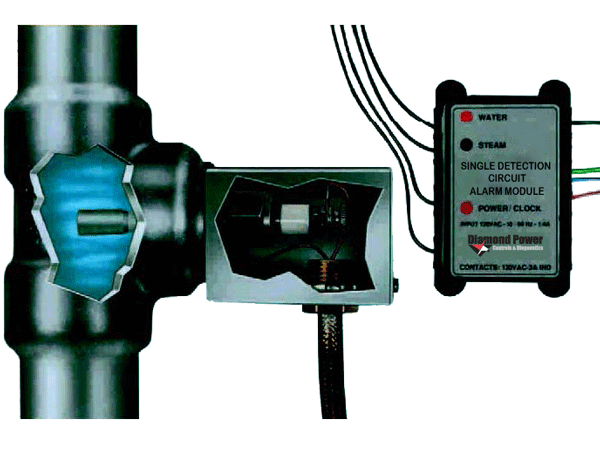 Single Detection Circuit (SDC) Alarm Module
The SDC alarm measures resistance and reports the presence of either steam or water based on fluid conductivity. The probe can be mounted directly to the pressure vessel by welding the probe connector in a tee or column. The SDC alarm module is an effective electronic replacement for mechanical float switches and can be conveniently located up to 65 ft (20 m) from the probe with low conductivity water, and 500 ft (152 m) from the probe with high conductivity water.
Gauge and Level Indicator Aftermarket Parts
B&W provides quality replacement parts for a wide range of gauge and level indicators. We also provide sight glass, covers and bolts for most of the Diamond Power legacy products.
Level probe and column
The Diamond Power® Series II level probe and column from are designed for steam/water level measurements using conductivity-type electronic level detection systems. The probe and column can replace leaking probe gaskets, failed probes, and corroded columns with superior technology, which is fully compatible with any existing electronic systems. The use of a junction box that is pre-wired to the probes makes installation simple.
DP5500 Ball Check Valve & DP5501 Flow Restrictor
The Diamond Power® Series II ball check valve and flow restrictor are designed to be used with visual level gauges to prevent excessive discharge from the gauge in case of glass failure. The ball check valve is installed on the lower gauge connection and the flow restrictor orifice is installed on the upper gauge connection. The ball check valve and flow restrictor are available in a number of mounting configurations.
Level Gauge Isolation Valves
B&W offers a variety of high quality Diamond Power® Series II valves designed for visual level gauge isolation. All valves are forged steel and constructed to meet the rigorous demands of high pressure steam boiler service.
High Pressure Ported Boiler Level Gauge Repair Kits
B&W's Diamond Power® Series II ported boiler level gauge repair kit is configured to fit Diamond Power level gauge designs. All repair kits use high quality material and are rated for 3000 psi (21 MPa) saturated steam service.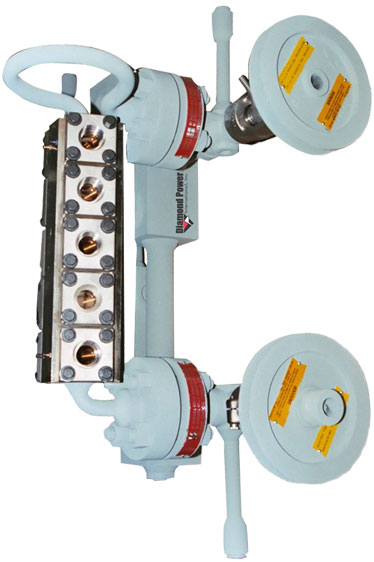 Diamond Power® DP-3000 Gauge Replacement Parts
Many Diamond Power DP-3000 water level gauges are still in operation today. We provide a range of quality replacement parts to help keep your Diamond Power DP-3000 water level gauges in top operating condition.
Valves
Stuffing box valve
Flanged valve
Flanged rotatable valve
Port assemblies
Glass/gasket set
Glass/gasket set with laminated ring gasket
Illuminators and camera hoods
Tungsten halogen illuminator assembly
Camera hood assembly
Direct reading hood assembly
Download The Brochure