Success Stories
From The Leader in Clean Power Production Technologies
University of Alaska Fairbanks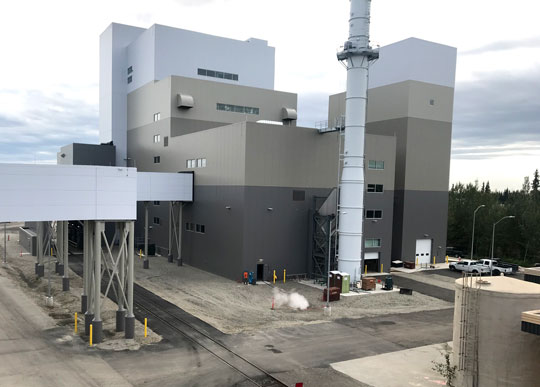 University of Alaska Fairbanks Combined Heat and Power Plant
Babcock & Wilcox (B&W) designed and manufactured an internal recirculation circulating fluidized-bed (CFB) boiler and air quality control equipment for a new combined heat and power (CHP) plant for the University of Alaska Fairbanks (UAF).
Plant Name
University of Alaska Fairbanks
Location
Fairbanks, Alaska
B&W Scope
Steam supply
Circulating fluidized-bed (CFB) boiler
Power island building structural steel
Coal silos
Feeders and chutes
Air quality control equipment supply
Limestone injection
Dry sorbent injection
Multiclone® dust collector
Pulse jet fabric filter
Other
Allen-Sherman-Hoff® bottom and fly ash handling systems
Material transport systems
B&W SPIG air-cooled condensers
Boiler Specifications
Capacity: 17 MW
Steam flow: 240,000 lb/hr (30.24 kg/s) steam Steam pressure: 740 psig (5.1 MPa)
Steam temperature: 750F (399C)
Fuel: Alaskan subbituminous coal; flexibility to fire up to 15% biomass
Project Facts and Results
Boiler hydrostatic testing: October 2017
Construction completion: Fall 2018
First natural gas fire: Fall 2018
First coal fire: end of 2018
Boiler tuning: Fall 2019
UAF replaced the existing boilers originally built in 1964. The replacement CFB boiler will meet current power and steam demands as well as future growth requirements of the university.
The electricity and low-pressure steam generated will power and provide heating and chilled water to the university's numerous buildings, classrooms, research facilities, and student housing located on approximately 3 million ft2 (nearly 69 acres, or 28 hectares) of campus property.
The sub-arctic climate in Fairbanks created unique scheduling challenges as steel construction was required to stop when temperatures dropped below –15F (–26C), and all work stopped at temperatures of –30F (–34C).
Shipping and logistics were challenging due to the location of Fairbanks (360 miles [579 km]) from the port city of Anchorage.
Emissions results indicate the unit is capable of meeting nitrogen oxides (NOx), sulfur dioxide (SO2), and particulate emissions permit limits throughout its load range.
---