Success Stories
From The Leader in Clean Power Production Technologies
Bulleh Shah Packaging – Pakistan Biomass Case Study
Bulleh Shah Packaging – Pakistan Biomass-Fired Power Plant
Under a licensing agreement, B&W Vølund has supplied technology to a biomass fired energy plant at the Bulleh Shah Packaging Limited paper factory. The fuel consists of residues from local wheat straw, cotton stalks, corn, rice and river grass. The plant's steam data will be 150 t/h at 530 degrees and 98 bara: enough to secure stability in the supply of steam and power to the factory. A reliable supply of energy is rare in Pakistan. It can be both expensive and challenging for the factory when power fails.
Concerning the necessary investment and the choice of supplier, Harri Taipale, Deputy Project Director, in Bulleh Shah says: "It's not profitable to run a paper factory with an unstable energy supply, such as is the case now in Pakistan. Through the investment in the biofuel plant and the cooperation with Runh Power Corp. Ltd. and B&W Vølund, we get a reliable and cost-effective energy supply for our paper and board production."
Scope of Supply
Babcock and Wilcox Vølund has supplied:
Design of the boiler and the concept for the plant.
Design review.
Construction and commissioning advisors.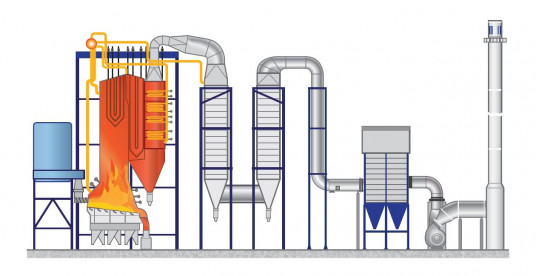 Vibrating Grate
The water-cooled vibrating grate has proven to be robust and highly efficient since 1990. The grate was specifically developed for fuels with little or almost no ash content, but also works very well with fuels containing ash. It is distinguished by a very high degree of utility, low maintenance costs, and minimal wear on components. As standard, the grate panels are supplied with water from the boiler drum and act similar to other evaporating surfaces in the boiler pressure part. Other high- or low-pressure cooling cycles can be adopted in order to optimize your overall plant performance. The vibrating grate is ideal for burning most types of biomass, RDF and other solid fuels.
Suitable for a wide range of boilers within 10-170 MW.
Possibility of burning fuels with high moisture contents.
Efficient water cooling results in less wear and ensures a long operating life.
The air flow through the grate can be optimized as there is no need for air cooling.
High availability, low maintenance costs and a low consumption of spare parts.
Plant Design Data
Process Parameters
Values
Units
Nominal Fuel Capacity
37.7
t/h
Fuel Calorific Values
9.5 - 16
MJ/kg
Steam Flow
150
t/h
Steam Outlet Temperature
530
°C
Steam Pressure
97
barg
Feed Water Temperature
180
°C
Boiler efficiency
91
%
| | | |
| --- | --- | --- |
| Emission Guarantees | Values | Units |
| NOx | 510 | mg/NM3* |
| Dust | 30 | mg/NM3* |
| SO2 | 900 | mg/NM3* |
| TOC in ash (max) | 10 | % |
---