Success Stories
From The Leader in Clean Power Production Technologies
Amager Bakke / Copenhill Case Study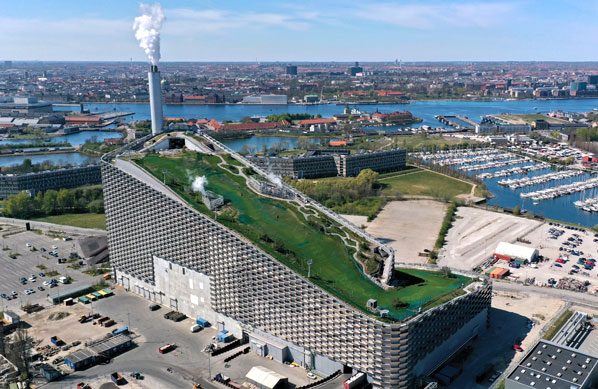 Amager Bakke / Copenhill
B&W scope
Crane
Feeding system with hopper
Boiler
Ash system
Electrical system
Electrostatic precipitator (ESP) for the reduction of particles in the flue gas
Selective catalytic reduction (SCR) for reduction of NOx emissions
Economizer for flue gas cooling
Combustion control system
Copenhagen's state-of-the-art Amager Bakke sets new standards for environmental performance, energy efficiency and waste treatment capacity.
Just across the bay from the queen's palace, it includes a roof-top ski slope and a hiking trail, with trees growing on landscaped sections. The plant was constructed by Amager Ressourcecenter, owned by five Copenhagen municipalities.
Amager Bakke is equipped with two furnace lines and a joint turbine and generator system. Each line burns 35 tonnes of waste per hour and is designed to:
Treat approximately 400,000 tonnes of waste annually produced by 600,000 inhabitants and at least 46,000 companies
Supply a minimum of 50,000 households with electricity and 120,000 households with district heating
Supply 440 °C steam at 70 bar, which doubles the electrical efficiency compared to the former plant
Emit much lower emissions than the EU's stringent 2019 Best Available Techniques Reference Document for Waste Incineration

A DynaGrate® at Heart
Water-cooled dynamics make the difference
The innovative technology of the DynaGrate combustion grate is unique in its fuel flexibility, optimized combustion and minimal maintenance cost, all due to the mechanical design and optimized water-cooling system. The entire cooling system is well integrated and protected in the steel shaft. Also, movable grate parts are not in contact, thereby reducing grate wear.
Further, the mechanical break-up of the waste layer on the grate results in thorough agitation and superior combustion conditions. The watercooling system allows high heating values that are vital to fuel flexibility. Together, the water-cooling and mechanics result in high plant efficiency and excellent burnout of the waste, as evident from very low TOC values (around 0.2%) in bottom ash.
Optimized combustion
Since the water-cooled DynaGrate system is not dependent on air cooling, full control of the primary combustion air is achieved. This optimizes the combustion process to reduce NOx formation at the source. B&W Vølund tests operating at oxygen levels around 4.5 – 5% show NOx levels in the range of 200 – 250 mg/Nm3. This is before the flue gas reaches the SCR filter.
Moreover, low excess air results in less flue gases, thereby reducing the stack loss and fan power consumption. In addition to low NOx emissions, our VoluMix™ overfire air system, designed using computational fluid dynamics (CFD), reduces CO and TOC to a minimum. The Volumix process injects secondary air into the combustion zone, with a complete burnout in the gas phase.
---