FPS® Valves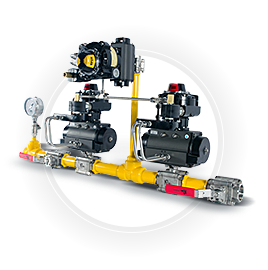 We are leaders in reliable, cost-effective, high-performance shut-off valve technology. Our automatic and manual shut-off valves are installed around the world in pulp and paper, petrochemical and power generation applications. FPS® valves provide low maintenance, leak proof and fail-safe operation.
Valve Assemblies
We have the capability to design and fabricate complete custom fuel handling assemblies for use with gas, oil, air, water, steam and hydrogen service.
Learn More
The FPS 9650 Valve Series was developed to meet our ongoing requirement for high-performance safety shut-off ball valves for burner and ignitor systems. When developing the valve line, our main criteria was to create a superior quality valve package that would exceed the requirements of CSA and FM valve performance standards. FPS 9650 valves are available in both manual and automatic construction in a Series 88 and Series 90D valve body.
FPS 88 Series Valves feature a three-piece body for ease of inline maintenance without breaking the piping connection and is available with NPT, socket weld or butt weld ends, in sizes 1/4 in. up to 2 in.
FPS 90D Series Valves feature a two-piece body available with 150# or 300# RF flanges, in sizes 1/2 in. up to 6 in.
Automated 9650 Valves are electro-pneumatic and fitted with FPS actuators, FPS limit switches and ASCOTM solenoids. FPS actuators are spring return which provides fail-open or fail-closed security upon loss of instrument air or power. FPS limit switches are available in a water-tight (IP67) or explosion proof (Class 1, Div1) enclosure rating. A range of ASCO solenoid options are common supply and include a variety of VAC or VDC operating voltages, enclosure ratings, intrinsically safe options, and more.
Our advantages include very short delivery times, prompt quote turnaround with technical support, and the ability to meet end user specifications with an array of approvals. These features paired with a reliable, proven and robust valve design has advanced FPS as a leader in fail-safe valve offerings – worldwide.
Consult with us on your specific design requirements as alternative assemblies may be available.
Approvals
FPS 9650 Valves are approved to the industry's top standards including:
API 607 6th Edition Fire Safe
Factory Mutual (FM) Class 7400 for Oil and Gas
CSA 3.16/CGA Interim Requirement No. 60 Lever Operated Shut-off Valves
CSA 6.5/ANSI Z21.21 Automatic Valves for Gas Appliances
CRN Registration in all required Canadian Provinces
Meets all ASME requirements
Functional Safety Certified to a Safety Integrity Level of SIL3


FPS 9650 Vales - Design and Specifications
Suitable for use with gas, oil, air, water, steam and hydrogen service
Bi-directional seal with PTFE or RTFE soft seats
CF8M or WCB body material (CF8M = standard supply)
Standard (70-120 psig) and low pressure (50-70 psig) actuator options available
Ambient design temperature range of -40 to 50 °C
3-Stage triple redundant stem seal provides maintenance free operation
Leak watch window in valve body allows the user to check the steam seal for potential leakage.