FPS® Valves
We are leaders in reliable, cost-effective, high-performance shut-off valve technology. Our automatic and manual shut-off valves are installed around the world in pulp and paper, petrochemical and power generation applications. FPS® valves provide low maintenance, leak proof and fail-safe operation.
The FPS valve line was developed to meet ongoing requirement for high performance safety shut off valves for use with gas and oil ignitor systems. When developing the valve line, our main criteria was to create a very high-quality valve package that would exceed the requirements of CSA and FM valve performance standards. We maintain significant inventory at our factory in Nova Scotia, Canada. Customers requiring valves can expect quick quote turn around, expert assistance with product selection, very short delivery times, and prompt submittal of quality assurance related documentation.
Our custom engineered valve trains are a perfect solution for customers seeking to reduce the cost of site assembled equipment. We provide complete valve train engineering services including: sizing all shut-off valves, strainers, pressure regulation valves, flow control valves and instrumentation. Fuel valve trains are typically designed to CSA 149.1, CSA 149.3, ASME B31.1, and B31.3 specifications, along with customer specifications such as painting, material country of origin limitations, and special nondestructive examination (NDE) requirements. A full quality assurance package is compiled including inspection, general test reports, material test reports (MTRs) and weld maps. The fully assembled valve train is electrically wired, pneumatically tubed, pressure tested, and all components are functionally tested prior to preparation for shipment.
All FPS valve designs utilize a triple redundant stem seal. Stage 1 is via a pyramidal stem seal, stage 2 is via an O-ring and stage 3 is via multi-layered V-Ring Chevron™ packing. The blowout proof design is tensioned using Bellville washers for the ultimate in maintenance-free operation.
Leak watch windows in all valve castings allow users to check the stem seal for leakage.
Visual indication of the ball orientation can be confirmed by way of a colored indicator which is visible in the leak watch window.
All valve components are maintained in stock to allow for quick deliveries.
FPS valves are approved to the industry's top standards including: API 607 4th Edition Fire Safe, Factory Mutual (FM) Class 7400 Liquid and Gas Safety Shut-off Valves, CSA 3.16/CGA Interim Requirement No. 60 Lever Operated Gas Shut-off Valves, CGA 3.9 Automatic Safety Shut-off Gas Valves, CSA 6.5/ANSI Z21.21 Automatic Valves for Gas Appliances, and CRN registration in all Canadian Provinces.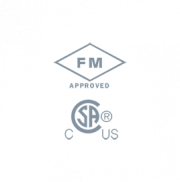 FPS 88 Series valves ensure safety, reliability and ease of maintenance. The valve features a three-piece body for ease of inline maintenance without breaking the piping connection and is available with NPT, socket weld or butt weld ends, in sizes from ¼ in. to 2 in.
FPS 90D Series valves ensure safety, reliability and ease of maintenance. The valve features a two-piece split body design and is available with 150 lb or 300 lb flanges, in sizes from ½ in. to 6 in.
FPS pneumatic actuators allow fast and reliable valve cycling. The spring return option provides fail open or fail closed security in the event of a power or compressed air failure. Directly mounting the actuators to the valve body allows rapid removal of the actuator and eliminates the need for couplings.
A multitude of both VAC and VDC solenoid options are available as well as use of customer specific solenoids. High visible beacon type limit switches are supplied in either a water tight or Class 1 Div 2 version.