FocalPoint™ Optimization System
As experts in combustion and emissions control equipment, we offer the FocalPoint™ optimization system which can provide key operational benefits, including among other things, increased boiler efficiency and reduced emissions.
We use our proprietary combustion, performance and environmental models, developed from years of experience with engineering boilers and emissions control systems to customize tailored optimization schemes for your unit. The FocalPoint system includes a wide range of built-in logic and mathematical functions that can be used to create optimization strategies, from simple to complex.
The FocalPoint system analyzes past and current operating conditions and automatically adjusts for improvement.
Potential Benefits
Lower NOx and CO emissions
Improved unit heat rate
Higher boiler efficiency
Reduced fouling and slagging caused by poor combustion
Reduced reagent consumption
Reduced power consumption
Relevant to ACE Rule and MATS requirements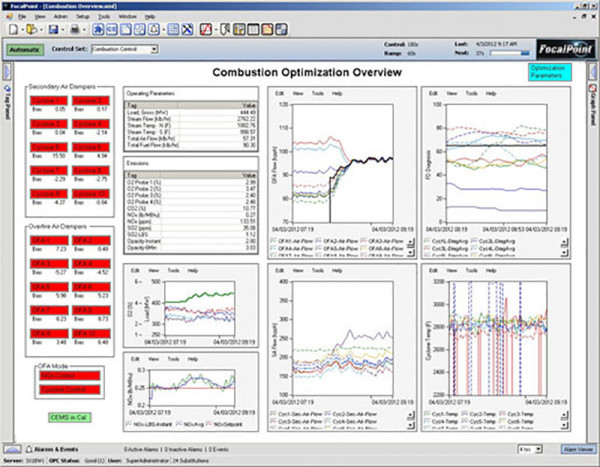 The intuitive user interface of the FocalPoint system allows easy customization and rapid viewing of key parameters.
Intuitive, easy to use and flexible – provides complete freedom to view, create and customize advanced optimization strategies. It is designed to grow and transform as your requirements change. Control schemes can be implemented or modified without requiring a unit outage.
Broad applications – applications are limited only by your available control hardware and process measurements. Multiple processes on a unit can be managed by a single FocalPoint installation, including:
Combustion (NOx, CO, O2, etc.)
Heat rate/efficiency
Dry sorbent injection (DSI) systems
Wet and dry flue gas desulfurization (FGD) systems
Selective catalytic and noncatalytic (SCR/SNCR) ammonia injection control
Electrostatic precipitators (ESP)
Read how the FocalPoint system met the combustion optimization and emissions reduction goals for a customer in West Virginia.
Download the Brochure (PDF)