Wet Electrostatic Precipitators (WESP)
Fine particulate, condensables and acid mist collection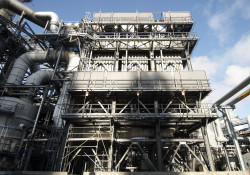 B&W's experience with electrostatic precipitator (ESP) technologies, both wet and dry, includes not only our established OEM experience base and expertise, but that gained through strategic acquisitions and licenses such as:
Hamon Research-Cottrell – acquired in 2022
SLF Romer (F.L. Smidth Airtech) – licensing agreement since 2003
Joy Environmental and Western Precipitation – acquired in 1995
Our combined experience includes more than 5000 ESP installations, worldwide.
Download the WESP for Utility Applications Brochure (PDF)
Fine particulate, condensables, acid mist collection
Dr. Frederick Cottrell developed the first wet ESP in 1907 to control sulfuric acid mist from a copper smelting process. Since that time WESP technology has become well-established around the world in both industrial and utility applications to remove sub-micron particulate, condensables and sulfuric acid (H2SO4) mist. It is especially useful as a final polishing device in air pollution control systems where an upstream dry ESP, fabric filter or wet scrubber cannot capture the sub-micron particulate or acid mist due to its small size.
When wet flue gas desulfurization (FGD) systems or wet scrubbers are used for sulfur control, wet ESPs have also proven to be effective in collecting H2SO4 and other condensables, along with fine particulates, reducing opacity concerns at the stack.
In addition to reducing emissions and opacity from a stack, wet ESPs can be used to recover valuable product from a process gas.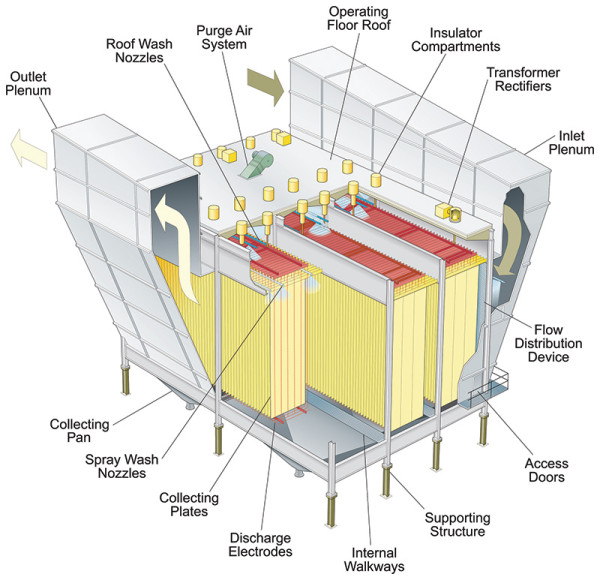 Design/configuration
Wet ESPs are generally configured in one of two ways:
Horizontal gas flow with flat plate collecting electrodes
Up-flow tubular configuration on top of the wet scrubber to minimize foot print
Collecting tubes are typically round, square or hexagonal. B&W's expertise includes both plate and tubular designs.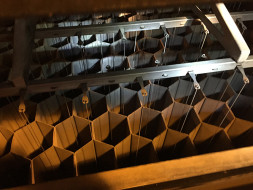 A WESP is typically installed after a wet FGD system in power utility applications or after a wet scrubber in an industrial or refinery application where the flue/process gas has been cooled to moisture saturation. Once cooled, gaseous pollutants condense to form sub-micron aerosols that can be captured within the wet ESP. The WESP can be integrated into the scrubber/absorber tower, or it can be located after the scrubber.
A complete wet ESP system typically includes the following components:
Collecting electrode system
Discharge electrode system
Positive insulator vent system
Internal wash systems
Transformer rectifiers and controls
Casing
Features and benefits
Performance – over 90% collection efficiency typical and up to 99% possible*
Compact Size – minimizes space and cost
Opacity – less than 10% possible*
Reliability – well-established technology in hundreds of applications
Fuel Flexibility – applicable for various fuels
Multi-Pollutant Control – sub-micron solid particulate, condensables, and sulfuric acid mist
Modular Design – allows for scale up to any size air flow and ease of installation
Simple Maintenance – no moving mechanical parts; continuous self-cleaning
Pressure Drop – typically less than 1 in. wg (0.25 kPa) through the wet ESP
System Integration – total system capability with other pollution control devices
*when integrated as part of an appropriately designed emissions control system
Click to view larger images.
Applications
B&W's wet ESP system design is based on our extensive experience with a wide range of industrial, refinery and power applications, including:
Particulates and sulfuric acid mist from petroleum refinery processes
Sulfuric acid plants
Regeneration of spent acids in chemical plants
Metallurgical sulfuric acid plants in zinc, copper and nickel applications
Organic fumes such as those generated in fiberglass production applications
Organic fumes and particulates from sinter plants and steel mills
Utility power plants
In addition, our wet ESP technology can be utilized as effective gas pre-treatment in post-combustion carbon dioxide (CO2) capture applications to protect the downstream CO2 capture reagent from contamination.
Electrostatic Precipitator (ESP) Rebuilds & Upgrades
Improvements for decreased emissions and improved efficiency

Aging technology and lack of support from some original equipment manufacturers has resulted in lost productivity and reduced efficiency for many electrostatic precipitator systems. ESP products and services provided by B&W are designed with one goal in mind— to help keep your ESP functioning at peak performance. Our vast industry experience enables us to provide integrated solutions to enhance equipment performance, regardless of original manufacturer. B&W's ESP aftermarket parts, service and upgrade business, formerly known under the Preciptech brand name, provides engineered upgrades, quality components and services to help keep your ESP running efficiently and effectively.
Our combination of innovative products and services include:
Collector plates
Rapper components and parts
Discharge electrodes
Insulators
Single- and 3-phase power supplies and controls
Access doors and door seals
Electrical performance enhancement hardware and software
Upgrades, rebuilds and conversions
24/7 remote diagnostics
Field services and operating and maintenance training seminars
B&W can upgrade virtually any existing ESP, regardless of manufacturer.
Learn More About ESP Rebuilds And Upgrades