About B&W's Allen-Sherman-Hoff® (A-S-H®) Products
B&W is the original equipment manufacturer of all Allen-Sherman-Hoff® (or A-S-H®) ash handling equipment, systems and replacement parts.
Combining our strengths, history and experience, B&W's extensive knowledge of the physical and chemical properties of various material combinations has made us an integral supplier of customized solutions.
Each project begins with careful analysis and planning to meet scheduling, execution and performance goals. We also provide dependable after-sales support, with spare or replacement parts, maintenance services, and component and system upgrades to maximize the life of your material handling equipment.
Our experience and expertise cover a wide range of industries and applications including power generation, renewable power production, pulp & paper, refineries, petrochemical, and many others.
Allen-Sherman-Hoff® Ash Handling Parts and Service
Phone: +1-740-687-4160 or toll-free within North America +1-800-848-5086
After-hours Emergencies: +1-800-876-9762
History of Allen-Sherman-Hoff (A-S-H)
Three mechanical engineers, Frank Berry Allen, John Baker and Frank H. Dunbar form the Baker-Dunbar-Allen Company in Cleveland, Ohio. Their goal was to improve coal handling techniques for power plants. In 1921, Frank Allen left for Philadelphia, Pennsylvania, to form a new company with Max Sherman and Leigh Hoff. Together they formed the Allen-Sherman-Hoff Company (A-S-H) and subsequently purchased the equipment drawings and patterns from the Baker-Dunbar-Allen Company.
Allen-Sherman-Hoff's business initially consisted of the supply of cast iron hoppers for coal storage and the collection and conveyance of bottom ash below the boilers.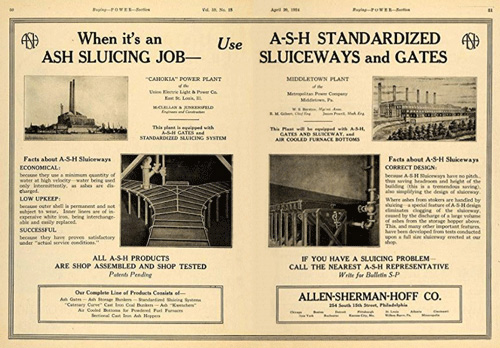 The original arrangement was modified in the early 1930s when A-S-H develops the HYDROSEAL pump, designed to better handle the high abrasive wear of the ash. Its use allowed the collected ash to be carried through pipes at faster conveying rates and farther distance from the boiler.
A-S-H introduces the Hydrovac™ pneumatic vacuum conveying systems for the transport of fly ash to the sluices. A new line of fly ash components is developed to combat the wear of abrasive fly ash moving at high velocities. HYDROVACTOR® vacuum producers and steam jet exhausters provided the required vacuum-induced flows. The hydraulic bottom ash handling system, utilizing the HYDROSEAL pump, dominated the ash handling industry until the introduction of the jet pump which provided improved performance at a lower cost with reduced maintenance.
A-S-H introduces its complete line of HYDRO-EJECTOR jet pumps in 1952.
The Allen Family retained control of the company until 1963 when the assets of the ash handling group were purchased by the Baldwin-Lima-Hamilton Company and a new corporation named Allen-Sherman-Hoff, Inc. was formed. This new company operated first as a subsidiary, then as a division, of Ecolaire Incorporated.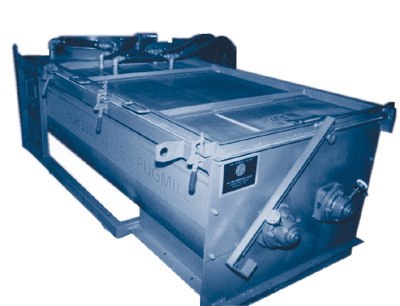 Ecolaire establishes the offices of A-S-H in Malvern, Pennsylvania.
A-S-H successfully negotiates the technology transfer contract with the People's Republic of China, establishing A-S-H's dominance of the ash handling industry in the PRC. A-S-H was also awarded the two largest ash handling system contracts ever tendered at that time, both for Taiwan Power Company's Taichung Station.
Allen-Sherman-Hoff advances its technology development in dilute-phase transport systems, pressure dense-phase transport systems and mechanical drag conveyors.
Allen-Sherman-Hoff acquires HydroAsh from the L. B. Foster Company of Pittsburgh, Pennsylvania. At the time of this acquisition, HydroAsh had established itself as the third largest ash handling equipment supplier in the United States. Under Allen-Sherman-Hoff, the HydroAsh group targeted the industrial ash handling market, its strongest niche. Eventually the design strengths and products of HydroAsh were assimilated within A-S-H's product offerings.
In late 1987, Ecolaire merges with Joy Manufacturing Company. A-S-H's operations were combined with Western Precipitation (WP), another Joy unit, forming Joy Environmental Technologies, Inc. The product offerings of this new company included A-S-H's ash handling equipment and WP's air pollution control equipment.
Anticipating a synergy with its highly successful sootblower and auxiliary boiler equipment business, Diamond Power Specialty Company (DPSC), part of The Babcock & Wilcox Company (B&W), acquires the assets of Joy Environmental.
Allen-Sherman-Hoff was established as a division of DPSC for the supply of traditional ash handling systems, equipment and parts, while the Western Precipitation air pollution control equipment was joined under B&W's environmental technologies group.
Diamond Power International, Inc. (DPII) acquires certain assets of the Beaumont Birch Co., establishing Allen-Sherman-Hoff as part of DPII's ash handling division.
As part of a company-wide strategy to integrate operations and emphasize its complete and broad power plant capabilities, B&W realigns the Allen-Sherman-Hoff operations under the B&W company brand, marketing all ash handling, systems, products, parts and upgrades with the Allen-Sherman-Hoff® (A-S-H®) product brand.