Leading Clean Power Production Systems for the Pulp & Paper Industry
Babcock & Wilcox has served the pulp & paper industry for many years by providing a wide range of clean power production technologies and aftermarket support services including parts, equipment upgrades and field engineering.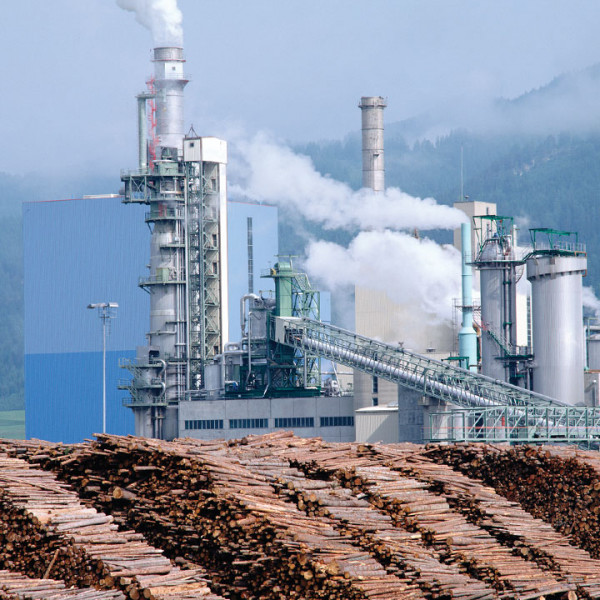 Chemical Process Recovery (PR) Boilers
B&W's single-drum recovery boiler, now the standard in the pulp and paper industry, provides high availability with safe operation and low maintenance. We have been at the forefront of technologies which improve boiler and cycle efficiency, such as firing higher solids concentration liquors, using low pressure steam to heat combustion air, and feedwater heating.
Benefits of our PR boiler design includes:
Increased efficiency
High availability
Improved safety
Low emissions (CO, NOx, SO2 and VOC particulate)
High solids firing for optimized thermal efficiency
Advanced steam drum internals and riser/supply systems for circulation safety margin
Reduced construction costs and greater schedule certainty with modularized design
Overall lower boiler lifecycle cost
Our design features include:
Superheater, generator and economizer assemblies that are structurally stable yet minimize the use of restraints that can serve as locations for deposit accumulation and fouling
Single- and dual-sloped floors with varying elevations of smelt spouts to meet customer requirements for frozen smelt coverage of the lower furnace
Customized air and liquor delivery systems that are computer modeled for optimum lower furnace combustion, reduced emissions and long term cleanability
Download The Recovery Boiler PDF
PR Boiler Specifications
Design features
A chemical and heat recovery boiler for the pulp and paper industry; concentrated black liquor and combustion air are introduced into the furnace where heat is recovered as steam for electricity generation and process heating, and the inorganic portion of the black liquor is recovered as sodium compounds.
Liquor processing capacity
To 10,000,000 lb/day (4500 t/day) dry solids
Steam pressure
To 1850 psi (12.6 MPa) design
Steam temperature
To 950F (510C)
Fuel
Pulp mill liquor
Auxiliary fuels
Natural gas and/or oil
Upgrade options to both B&W and non-B&W recovery boilers include:
Capacity increases
Superheater upgrades to maintain steam temperature
Economizer replacements to improve boiler efficiency
QuantumAir™ system upgrades for lower emissions and improved cleanability
LM2100™ auxiliary burner retrofits
Low odor conversions